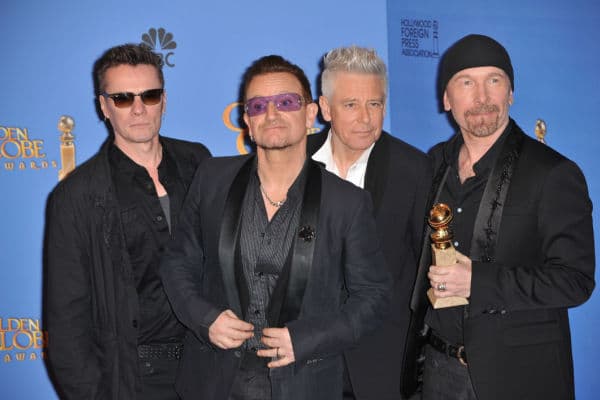 U2 have confirmed that they are in advanced talks to agree an Elvis-style residency at a Las Vegas hotel.
The Dublin band's frontman Bono revealed these plans during an interview for the latest edition of the SmartLess podcast, hosted by actors Will Arnett, Jason Bateman and Sean Hayes.
It has been rumoured that the MSG Sphere has been lined up as the ideal location for this residency. This is a 17,500 seater venue being built at the Venetian along the Vegas Strip, for music and entertainment.
The Sphere which can also cater for 20,000 standing, is scheduled to open in the second half of this year, and is set to be the biggest speherical building, home of the world's largest screen, a wraparound visual display of 15,000m2.
4D features are to also be reportedly used, along with 164,000 speakers, including sound through the floorboards.
"nothing like Las Vegas has seen before"
Speaking on the podcast, U2 lead singer Bono revealed that if things go according to plan, this residency will be "not like anything we've ever done before".
"It's nothing like Las Vegas has ever seen before. If this happens this will be really extraordinary", Bono added.
It was at this point that podcast co-host Sean Hayes admitted that U2 bandmate The Edge had showed him the plans over dinner.
"It's incredible", Hayes remarked.
"The Edge told me that you guys are going to go on tour in Las Vegas and he showed me the renderings of this new theatre, it's going to be unbelievable", he added. "It's a brand-new venue, right?". 
Bono replied, "You are a news network now, because that's breaking news! Blame it on Edge! But it's great". 
"I'm interested in Las Vegas for all kinds of reasons, even going back to The Fly". 
News of this planned residency comes just days after U2 had announced their tracklist for their new album 'Songs Of Surrender'. Check that out here.