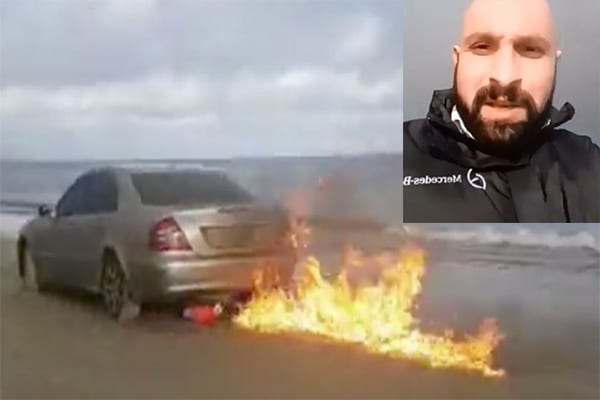 A vlogger from Romania who set his own car on fire on a beach has told a court it was a show of remorse to his wife.
The amorous arsonist claims he carried out the car burning to say sorry for cheating on his beloved spouse.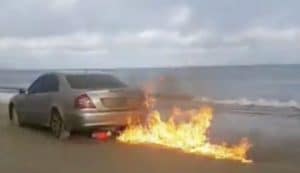 The vlogger, who has one previous conviction for theft in 2014, recorded the incident and uploaded it to his social media account where it was seen thousands of times and reported in a number of media outlets.
According to reports, Strugurel Lingurar, 30, pleaded guilty to the Section 2 Criminal Damage offence for burning his Mercedes on Laytown Beach in Meath last January 13th of this year. He was fined €400 in Drogheda District Court.
The court was told Lingurar was "happily married" but had a secret affair with another woman who he met several times in the Silver Mercedes E220.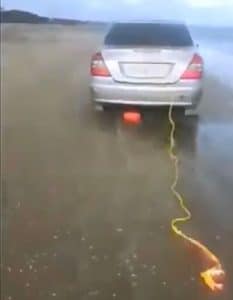 The barrister defending Mr Lingurar explained that he set the car alight as an "act of demonstration" to his wife so that she would know that he and the other woman were no longer having an affair.
Barrister, Ronan O'Carroll said his client purchased the car for €4,000 and that he and the other woman had many encounters in it.
Mr O'Carroll described the car burning incident as a way of proving to his wife that the was sorry, adding that Mr Linguar didn't attempt to claim on the insurance.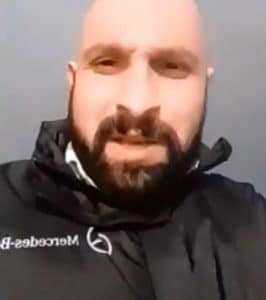 Judge Alan Mitchell said that Mr Lingurar was a fool for his actions and said the case was so strange it was hard to believe.
The Judge also remarked that Mr Lingruar's wife should be compensated to which the Romainan's defence claimed that they were now happily together and that she had forgiven him.