For one night only, on April 30th, Airbnb and the Louvre are giving one lucky winner and their guest a once-in-a-lifetime opportunity to cosy up to priceless masterpieces, including the Mona Lisa.
One lucky winning couple will sleep under the Louvre's iconic glass Pyramid in a "mini-pyramid" that will be specially designed to celebrate the building's 30th anniversary.
https://www.facebook.com/airbnb/videos/312078506148918/
According to a press release: "As part of the prize, the winner will be greeted by an art-historian who will take them on a bespoke tour, like those previously given to the Obamas, Beyoncé and Jay-Z. Once they have discovered the museum's wonders, the duo will enjoy their Home for the night in the presence of some truly legendary hosts: they will toast the Mona Lisa with a cosy Renaissance inspired aperitif while relaxing on a sumptuous Parisian lounge sofa, while listening to the atmospheric sounds of French music on vinyl records. Venus de Milo, the Greek goddess of love and beauty, will then "host" an extravagant feast in a pop-up dining room. Lastly, guests will be treated to an intimate acoustic concert in Napoleon III's lavish Apartments. At the end of this very special evening, the winners will retire to their bedroom under the Pyramid and Parisian stars for what promises to be a masterpiece of a sleepover".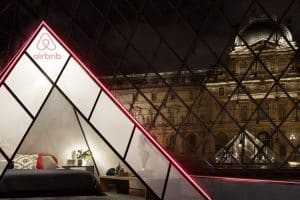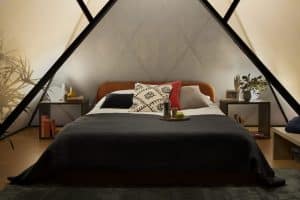 In 2017 Airbnb offered the Guinness Storehouse for a sleepover but last year Airbnb's night at the Great Wall of China was cancelled following concerns that the slumber party would damage the monument. Airbnb's one-off Experiences program has also given travelers the opportunity to sleep in a Lego house, in a shark aquarium and at New York City's Ellis Island.
If you're not lucky enough to win the big prize in the Lourve there is still a chance to experience something different with Airbnb offering a series of exceptional experiences at the museum from May until the end of the year.
To enter the competition just go to airbnb.com/louvre before the 12th April at 22h59 and answer this question: Why would you be the Mona Lisa's perfect guest? One winner will be selected. All terms and conditions of the contest are available online