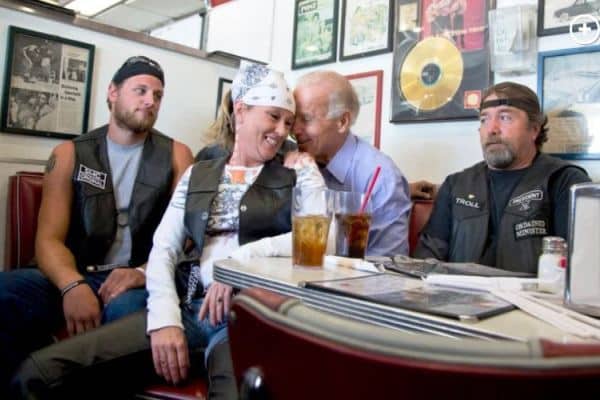 Joe Biden's presidential prospects could be petering out before the race even begins with presumptions and presuppositions of impropriety over how he interacts with women.
Two women have accused Barak Obama's buddy and former US vice-president of acting inappropriately towards them.
The 76-year-old Democrat is thought to be considering running for President next year.One politician claims he kissed her neck five years ago.
An ex-aide – Amy Lappos – says they ended up rubbing noses. She says the incident "wasn't sexual" but also that there's "absolutely a line of decency" and "a line of respect" that Biden crossed.
However most focus features on former Nevada state legislator Lucy Flores who wrote in a New York magazine article published on Friday, in which she describes an encounter with Biden at a 2014 campaign event.
Flores says the then-vice president came up behind her, touched her shoulders, and kissed the back of her head. The behavior, she says, wasn't criminal, but it made her feel uncomfortable. Her article makes for hands-behind-the-face cringe inducing reading.
"I found my way to the holding room for the speakers, where everyone was chatting, taking photos, and getting ready to speak to the hundreds of voters in the audience. Just before the speeches, we were ushered to the side of the stage where we were lined up by order of introduction. As I was taking deep breaths and preparing myself to make my case to the crowd, I felt two hands on my shoulders. I froze. "Why is the vice-president of the United States touching me?"
I felt him get closer to me from behind. He leaned further in and inhaled my hair. I was mortified. I thought to myself, "I didn't wash my hair today and the vice-president of the United States is smelling it. And also, what in the actual fuck? Why is the vice-president of the United States smelling my hair?" He proceeded to plant a big slow kiss on the back of my head. My brain couldn't process what was happening. I was embarrassed. I was shocked. I was confused. There is a Spanish saying, "tragame tierra," it means, "earth, swallow me whole." I couldn't move and I couldn't say anything. I wanted nothing more than to get Biden away from me. My name was called and I was never happier to get on stage in front of an audience."
EXCLUSIVE: Pro-Trump group to release "Creepy Joe" Biden ad https://t.co/BySzd28poO pic.twitter.com/GQbqwkN6Pj

— The Hill (@thehill) April 2, 2019
Joe "Handsy" Biden pic.twitter.com/mDZ51eWmks

— Chris Moody (@moody) January 6, 2015
Nancy Pelosi offers a different way for Joe Biden to touch women https://t.co/EtBYEuoJi8

— The Independent (@Independent) April 2, 2019