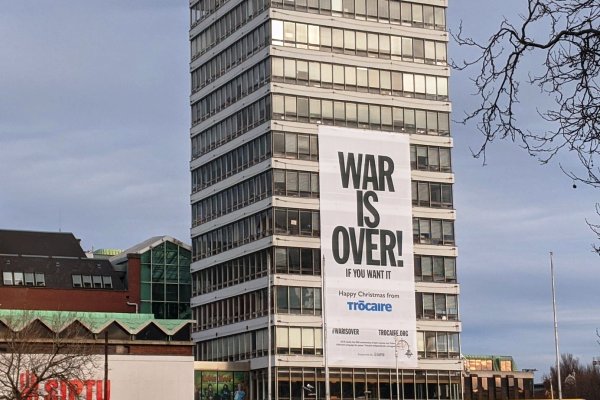 John Lennon and Yoko Ono's iconic 'War is Over' campaign has been reimagined as part of Trocaire's Christmas Appeal to raise funds for families who live in war-torn countries around the world.
It's 50 years since John Lennon and his wife Yoko Ono launched the famous 'War Is Over' campaign, which saw them place the slogan on billboards in 12 cities around the world.
Now in 2019, students from the Holy Cross National School in Co. Wicklow gave their own rendition of the song to help Trocaire launch their Christmas appeal.
Principal Mary O'Riordan explains how they got involved…
"Well, our school takes part in the music generation programme and I believe somebody in Trocaire got in touch with somebody in Comhair na nóg and they nominated music generation as being the agency that would supply a choir. So our school was approached and we jumped at the opportunity!"
Last year, €2 million was raised for Trocaire's Christmas Appeal…
Head of Communications for the charity is Eoin Rice. "The money raised at Christmas supports our work throughout the year, so that money that was raised last Christmas would have supported in placed like Syria, Somalia, South Sudan right throughout the year."
Trocaire has recreated the billboard in Liberty Hall in Dublin, while all the students involved today held up signs saying 'War Is Over' in both English and Irish.
WAR IS OVER! IF YOU WANT IT. Trócaire re-imagines 50th anniversary of John Lennon & Yoko Ono's iconic billboard campaign for peace. https://t.co/JoTGd8jGlH #WarIsOver pic.twitter.com/DRN6qRhva7

— Trócaire (@trocaire) December 2, 2019