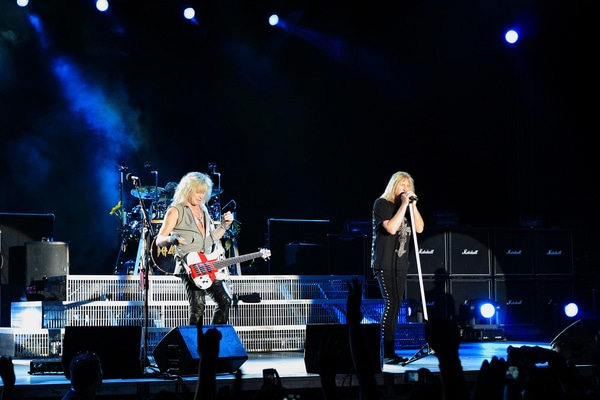 Def Leppard have a new album out now, it's called Diamond Star Halos, it's their 12th studio album and is a nod to all things glam rock of the 70's
I caught up with Joe Elliott in LA the other night for a natter, the band were in the middle of rehearsals for their massive 36 city "The Stadium Tour" with Mötley Crüe, Poison and Joan Jett.
He told me it's a whole new world of recording now and the pandemic actually helped create a great record.
Joe and I also had a right natter about working with David Bowie piano player Mike Garson and he promised me that Def Leppard will be back on Irish soil next year
The album's first single, "Kick", was released to widespread critical and commercial acclaim in March 2022.
Diamond Star Halos marks the band's first new work since 2015's chart-topping self-titled, Def Leppard. It is available now in multiple configurations, including a Deluxe Edition, 2-LP Vinyl, Digital formats and more. The artwork for Diamond Star Halos is art in itself. The design follows pedigree with their instantly recognizable album covers from their celebrated past. With images by world renowned photographer and director Anton Corbijn, styling concepts by Maryam Malakpour and graphics by the UK based Munden Brothers, the design truly follows the band's influence through their eyes today.
Check out the full tracklisting below and buy the album HERE.
TRACKLISTING
Take What You Want

Kick

Fire It Up

This Guitar [feat. Alison Krauss]

SOS Emergency

Liquid Dust

U Rok Mi

Goodbye For Good This Time

All We Need

Open Your Eyes

Gimme A Kiss

Angels (Can't Help You Now)

Lifeless [feat. Alison Krauss]

Unbreakable

From Here To Eternity
Diamond Star Halos is out now, listen to it. ★★★★