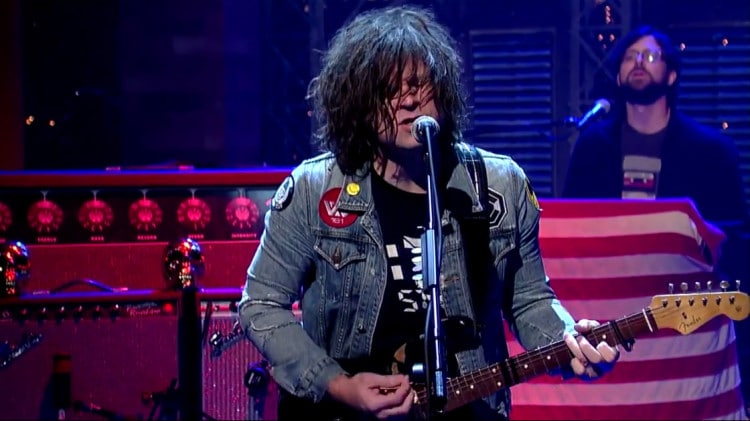 Ryan Adams performed 'Gimme Something Good' on David Letterman's nightly chat show the Late Show.
It went pretty well for the singer-songwriter, not only did Letterman appear to enjoy the live performance, he asked Adams to play the song again.
During his introduction Letterman said: "We can't have him on the show too often, he's a delightfully talent gentleman."
After thanking the other band members, the late-night talk show host walked up to Adams and shook his hand saying "great pleasure," before adding "I don't know, just a little bit more."
As Adams smirked through his flowing black hair, the host continued cooing over the singer: "Can you do just a little bit more, right now, same thing, just a little bit more."
Adams duly obliged, kicking straight back into the intro of 'Gimme Something Good.'
Watch the live performance below.
Last week, Adams released a few strange yet hilarious promotional videos on YouTube for his new album Ryan Adams. 
The the informercial features Jeff Garlin (Curb Your Enthusiasm), Bob Mould (Musician), Don Was (Producer) and Garry Shandling (Comedian). The shorts revolved around how much the new record 'sucks', the LP's caution for all parakeets and its apparent power of turning people into zombies.
There are also some bizarre shots of the Ryan Adams recording sessions, featuring Adams and Mould attempting to sing 'Gimme Something Good' in a Sesame Street voice.
Check out one of the promo clips below.
Watch the other funny promotional clips here.
Ryan Adam's self titled album is available now. He has just finished the first part of his North American tour and is due to play five dates in the UK, unfortunately he has not yet announced any Irish tour dates.
Ryan Adams track list:
Gimme Something Good
Kim
Trouble
Am I Safe
My Wrecking Ball
Stay With Me
Shadows
Feels Like Fire
I Just Might
Tired Of Giving Up
Let Go