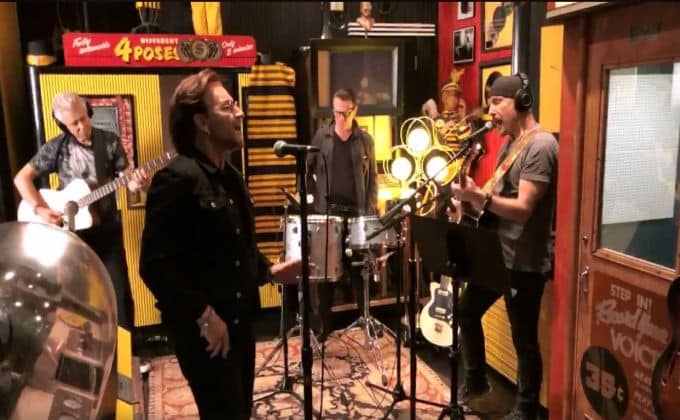 U2 recorded a live, intimate performance of their current single, 'Love is Bigger Than Anything In Its Way', at Jack White's Third Man Records headquarters in Nashville, TN on May 27th and a video from the session is streaming online and available below.
The weekend visit also saw the group record 'Red Flag Day', a track from 2017's 'Songs Of Experience.' U2 stopped by the studio just after they played at the city's Bridgestone Arena. That's as part of their current Experience + Innocence tour, which opened in Tulsa, Oklahoma on May 2nd.
Bono said after the recording, 'It's really great being in Nashville. People are really good to us. And then [Third Man Records] is such a temple, you know? To music.' The band posted on Facebook, 'When you think you're done, you've just begun…' Down at Jack White's @thirdmanrecords in Nashville, recording a live version of 'Love is bigger than anything in its way…Special limited edition vinyl coming soon. Thank you Nashville.'
Here's the video,
Meanwhile, this coming June, SiriusXM is hosting an exclusive invite only show featuring U2 at New York City's renowned Apollo Theater, The event  marks one of their most intimate shows in recent years. Their show takes the band on a brief detour from their eXPERIENCE + iNNOCENCE Tour and will consist of material from their recent 14th studio album, Songs of Experience.
Bono said in a statement, 'New York City and the U2 band have a unique history. From the songs of Lou Reed, Billie Holiday and the Ramones that taught us how to listen, to the New Yorkers at our earliest U.S. shows who taught us how to play, the souls of New York and U2 have always been intertwined. The Apollo Theater is the heart of New York's musical soul, and to finally be playing our songs on the same stage where James Brown begged 'Please Please Please' is not only a bucket list moment, it's an incredible honor.'