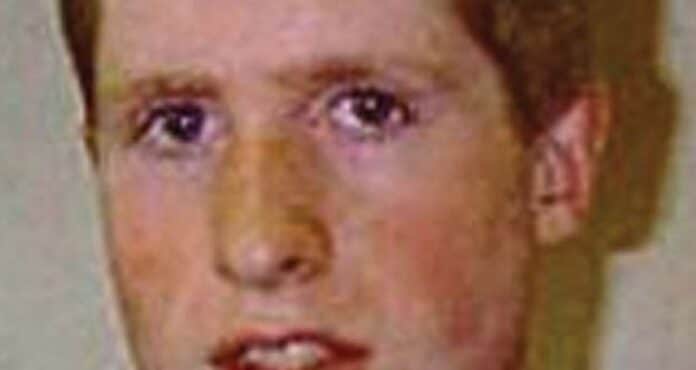 It's 20 years since 22-year-old Trevor Deely famously disappeared on December 8th. His family and friends, who have never given up on finding Trevor, gathered last night near the spot where he was last seen, on a rainy December night near Baggot Street Bridge.
Gardaí have issued a fresh appeal for information about Mr Deely. They are especially interested in information about a man seen on CCTV walking behind Mr Deely as he rounds the corner and walks down Haddington Road.
Most people who were around at the time will remember that night. It was a Thursday in the middle of Christmas party season, a lot of people were out and about and the weather was extremely poor that night. It rained like a monsoon and was very windy. There was a taxi strike. So there were more people than usual on the streets. Trevor Deely attended his work Christmas party in Dublin city centre. He left Buck Whaley's night club on Leeson Street Lower at about 3.30am and made his way to his workplace at Bank of Ireland Asset Management on Leeson Street to collect an umbrella.
A man in black is seen on CCTV at the gate of the office building. The man stands for approximately half an hour before Trevor Deely arrives. Trevor is seen to speak with the man before entering the building. Once inside, Trevor made a cup of tea and chatted with a friend, Karl Pender, who was working the night shift that night. Trevor took an umbrella from the office and left to go to his shared flat on Serpentine Avenue, Ballsbridge.
He is last seen on CCTV footage, from what was then the AIB Bank, on the corner of Baggot Street Bridge and Haddington Road. On the footage Trevor is last seen walking down Haddington Road. A man in black follows a short distance behind. Gardaí believe that this is the same man who was seen earlier outside Trevor's workplace. The man in black has never come forward and has never been identified.
Trevor's flat mates were away so they were unaware that he was missing over the weeknd. It was the following Monday before the alarm was raised by his employers when he didn't turn up for work. They alerted Trevor's family in Naas, Co Kildare.
Three years ago a massive Garda search operation was conducted in the Chapelizod area. It was believed that Gardaí had received credible information that Trevor Deely had been killed shortly after he was last seen and that his remains were hidden in the Chapelizod area. No human remains were found. A handgun, which was not believed to be linked to the Trevor Deely case, was retrieved. The search operation was called off after two months.
Garda Inspector Katharina Joyce said yesterday, "Our investigation continues to focus on trying to establish the identity of a man dressed in dark/black clothing pictured in CCTV footage talking to Trevor at a gate on Wilton Terrace at the rear entrance to Trevor's workplace. We believe the same man can later be seen walking a short distance behind Trevor in CCTV footage at the bank of Ireland ATM on Haddington Road, he has never been identified."
Trevor was a well-liked young man, the baby of his tight-knit family, with no known links to crime and no known enemies. His family members have worked tirelessly over the years in an effort to keep the mystery of Trevor's disappearance fresh in people's minds. His sister Michelle said yesterday, "We're entirely reliant on the public. We're entirely reliant on that person or persons who knows what happened to Trevor and where he is. That's all we're interested in, where he is. It's not even what happened. It's where he is."
It's believed that events that resulted in Trevor Deely's disappearance occurred a short time before he vanished. Anyone who has any information regarding his disappearance should call any Garda station or the Garda Confidential telephone line on 1800 666 111.