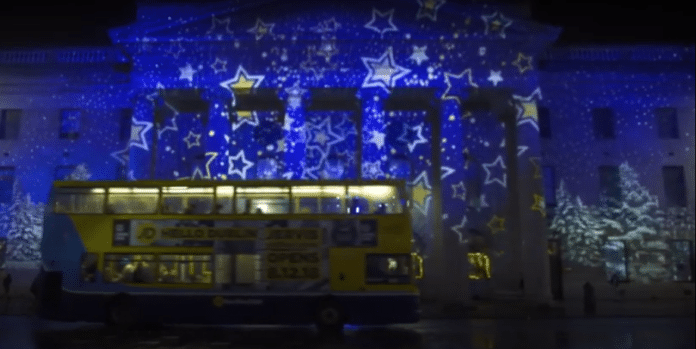 Dublin City Council is delighted to announce that the extremely popular 'Winter Lights' campaign will return for the third year this Christmas.
For the month of December, 17 locations across the city will be transformed with colourful projections and lighting displays to cheer us all up in what has been a very difficult year.
4 new locations have been added to the list for this year: The Mater Hospital, Capital Dock, The Jeanie Johnston Ship, and CHQ Triumphal Arch.
Smithfield will also be getting an enhanced display this year featuring photos of frontline workers to thank them for their contribution in helping to keep the city running.
All 17 locations will be up in lights from the first week in December until the end of December.
Full List of Projection Locations:
City Hall, Dame Street, Dublin 2
Civic Offices, Wood Quay, Dublin 8
Covanta Dublin Waste to Energy Plant, Poolbeg, Dublin 4
The Custom House, North Dock, Dublin 1
The GPO, O'Connell Street, Dublin 1
The Hugh Lane Gallery, Parnell Square North, Dublin 1
The Mansion House, Dawson Street, Dublin 2
Smithfield Square, Dublin 7
Trinity College Dublin, College Green, Dublin 2
The Mater Hospital
Full List of Lighting Locations:
Millennium Bridge
O'Connell Street, Dublin 1
Parliament Street, Dublin 2
Samuel Beckett Bridge
Capital Dock
The Jeanie Johnston Ship
CHQ Triumphal Arch