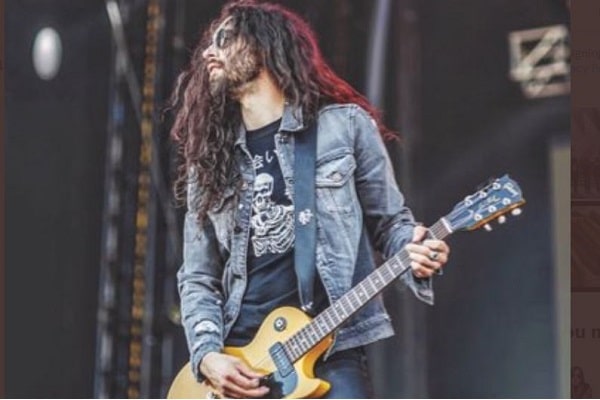 Frank Sidoris who has worked in Wolfgang Van Halen's band Mammoth WVH and Slash's The Conspirators, revealed that he and his wife were involved in a "traumatic" carr accident over the weekend.
It is also understood that the pair have thankfully escaped serious injury. Sidoris has also called the crash "a truly traumatic experience".
"traumatic"
Taking to Instagram recently, Sidoris explained what happend. He said that the couple were on their way to LA when the accident happend.
The motorist at fault was driving a pick up truck carrying "a van of illegal weight on a single axle trailer without brake lights or turn signals".
Sidoris also added, "The driver hit his brakes on a downhill causing the weight of the van and trailer to push the pickup directly in front of us," he said, "making him completely perpendicular to the left lane we were in giving us nowhere to go except the desert median. We clipped the front of his pickup truck which sent us airborne over a drainage ditch, crashing head-on in to the other side".
Sidoris did also reveal that his wife Alexandra suffered fractures to her L1 vertabrae and right ring finger. The guitarist said that these injuries are "mendable through surgery and months of physical therapy". 
Frank Sidoris is also set to appear on the Conspirators' fourth album. This is expected to arrive next year, described by Slash as "the best one we've done yet".
Sidoris had also started working for Slash's band in 2012 as a touring guitarist, before joining as a fully paid up band member in 2018.
He started working with Wolfgang Van Halen's band Mammoth MVH in 2015 after being approached him.
Earlier this month, Wolfgang also paid tribute to his late father. Eddie passed away in October 2020 following a battle with cancer.
"I'm not OK. I don't think I'll ever be OK. There's so much I wish I could show you. So many things I wish I could share with you. I wish I could laugh with you again, wish I could hug you again. I miss you so much it hurts", Wolfgang wrote online. 
See the rest of that tribute here.