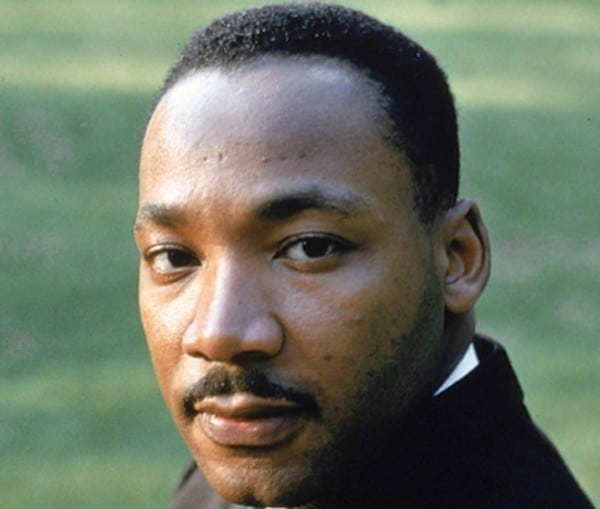 Today marks 50 years since the assassination of Dr. Martin Luther King Jr., shocking a nation and marking a key moment in the civil rights movement.
Dr. King became the most visible spokesperson of the civil rights movement at a time of profound change in the US in the late 1950s and 1960s.
Events are taking place across the America to celebrate his legacy and to remember his achievements.
In his birthplace of Atlanta, Reverend Bernice A King, his daughter is moderating an awards ceremony in his honour.
Also in Atlanta events end with a bell-ringing and wreath-laying ceremony at his crypt mark the moment he was gunned down on the balcony of the old Lorraine Motel.
The human rights activist was booked into Room 306 at the Lorraine Motel in Memphis. Just after 6pm, as he stood on the second floor balcony of the motel, Rev King was shot in the head.
Reverend King, in memory of what he achieved in the cause of racial equality, was posthumously awarded some of America's highest honours
They included the Presidential Medal of Freedom and the Congressional Gold Medal.
Martin Luther King Jr Day was established in numerous cities and states in 1971 and became a federal national holiday in 1986.
Hundreds of streets have been named in his honour across the US and there is a national monument to him in Washington DC.
Today we honor Dr. Martin Luther King, Jr. on the 50th anniversary of his assassination. Earlier this year I spoke about Dr. King's legacy of justice and peace, and his impact on uniting Americans. #MLK50 Proclamation: https://t.co/XXtPO0VX5A pic.twitter.com/SH0esMSyMT

— Donald J. Trump (@realDonaldTrump) April 4, 2018
Martin Luther King quotes:
"Darkness cannot drive out darkness; only light can do that. Hate cannot drive out hate; only love can do that."
"Free at last, Free at last, Thank God almighty we are free at last."
"If you can't fly then run, if you can't run then walk, if you can't walk then crawl, but whatever you do you have to keep moving forward."
"Injustice anywhere is a threat to justice everywhere."
"Darkness cannot drive out darkness; only light can do that. Hate cannot drive out hate; only love can do that."
"Free at last, Free at last, Thank God almighty we are free at last."
"If you can't fly then run, if you can't run then walk, if you can't walk then crawl, but whatever you do you have to keep moving forward."
"Injustice anywhere is a threat to justice everywhere."
"Our lives begin to end the day we become silent about things that matter."
"The time is always right to do what is right."
"I have decided to stick with love. Hate is too great a burden to bear."
"The ultimate measure of a man is not where he stands in moments of comfort and convenience, but where he stands at times of challenge and controversy."
"In the end, we will remember not the words of our enemies, but the silence of our friends."
"Life's most persistent and urgent question is, 'What are you doing for others?"
"Our lives begin to end the day we become silent about things that matter."
"The time is always right to do what is right."
"I have decided to stick with love. Hate is too great a burden to bear."
"The ultimate measure of a man is not where he stands in moments of comfort and convenience, but where he stands at times of challenge and controversy."
"In the end, we will remember not the words of our enemies, but the silence of our friends."
"Life's most persistent and urgent question is, 'What are you doing for others?"
"Our lives begin to end the day we become silent about things that matter."

We remember Martin Luther King whose activism for equal rights continues to inspire the fight for gender equality. #MLK50 pic.twitter.com/aCAyyIo6VW

— UN Women (@UN_Women) April 4, 2018