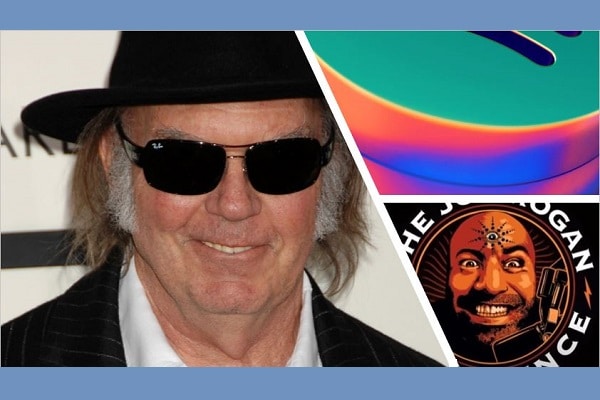 The unravelling saga of Neil Young and Spotify rolls on with many notable names having their say on the discussion. From fellow rockers to W.H.O. directors, opinions are pretty varied on Spotify's decision to respect the musician's ultimatum.
Earlier this week, the respected musician made headlines for demanding his music be pulled from the music streaming platform due to its support for The Joe Rogan Experience. Writing at the time, Young explains he is "doing this because Spotify is spreading fake information about vaccines". He believes it is "potentially causing death to those who believe the disinformation being spread by them. I want all my music off their platform. They can have [Joe] Rogan or Young. Not both."
In response, Spotify has claimed, it wants "all the world's music and audio content to be available to Spotify users. With that comes great responsibility in balancing both safety for listeners and freedom for creators. With "detailed content policies in place", Spotify has removed over 20,000 podcast episodes related to COVID-19 since the pandemic began. "We regret Neil's decision to remove his music from Spotify, but hope to welcome him back soon."
Spotify's decision to remove the Rock & Roll Hall of Famer's catalogue has received both criticism and support from musicians and fans alike. Young's former bandmate, David Crosby said the musician's action "makes me proud of him," while Sebastian Bach also called on his fellow rockers to voice support for Young. "Imagine calling yourself a rocker yet siding with some dude who has a podcast over Neil Young. You can stick to listening to your podcast and I will stick to listening to Neil Young."
The director general of the World Health Organization had his say on the discussion by thanking Young for "standing up". Taking to social media, Tedros Adhanom Ghebreyesus thanked the musician for "standing up against misinformation and inaccuracies around #COVID19 vaccination. Public and private sector, in particular #socialmedia platforms, media, individuals – we all have a role to play to end this pandemic and infodemic."
Spotify Make "The Right Call, Preserving Free Speech"
However, Disturbed frontman David Draiman applauds Daniel Ek and Spotify "for making the RIGHT call, preserving #FreeSpeech and not capitulating to the mob". Although Draiman may not agree with claims made on the show, "they're entitled to have the forum to say it."
In pulling his music from Spotify, Young claims his decision is not about censorship, or any denial of free speech. In a letter posted on his Neil Young Archives site, the musician writes, "I support free speech. I have never been in favour of censorship. Private companies have the right to choose what they profit from. Just as I can choose not to have my music support a platform that disseminates harmful information".
Young is "happy and proud to stand in solidarity" with healthcare workers, risking their lives every day to help others.
Artists Follow Young In Leaving Spotify
Siding with the veteran musician, some musicians are following Young away from Spotify, with musicians such as Joni Mitchell and Nils Lofgren. Explaining her actions through a short note on her website, Mitchell said, "I've decided to remove all my music from Spotify. Irresponsible people are spreading lies that are costing people their lives. I stand in solidarity with Neil Young and the global scientific and medical communities on this issue." While Lofgren's wife took to social media to remark; "We will miss the $3.28 we get a year, but we will forge ahead righteously."
And finally, British singer James Blunt has threatened that he will release new music on Spotify, if Rogan's podcast remains. "If @spotify doesn't immediately remove @joerogan, I will release new music onto the platform. #youwerebeautiful"     9:56 AM · Jan 29, 2022.
Spotify's vow to stay open to all discussions of the virus irks Young, who recently criticised Joe Rogan's podcast. Last week, the media widely circulated an open letter to Spotify, allegedly co-signed by 270 experts, demanding the company take action. It claimed Rogan has a "concerning history of broadcasting misinformation" regarding the COVID-19 pandemic. However, some reports allege that the majority of signatories obtained may not be fully qualified to make their assumptions, or claims, against the podcaster.
All is not lost for fans of Neil Young, as Apple Music has recently became the primary streaming platform for his discography. Since then, Apple Music has been taunting Spotify, bragging that they are now the primary home of Young's music. "It's normally a good idea to stream @NeilYoungNYA" Apple Music tweeted shortly after Young's letter went public.