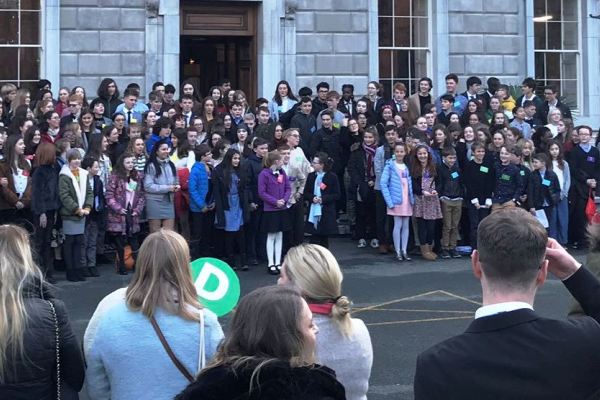 In what has been described as a "major first," the Dáil was taken over by 157 young people from across the country today as they discussed the climate crisis in Ireland's first Youth Assembly.
Aged between 10 and 17, the young people invited to discuss ways to help to tackle pressing environmental issues.
The Ceann Comhairle Seán Ó Fearghaíl described the Youth Assembly as a "historic meeting" and said it was fitting that "one of the greatest challenges of our time, if not the greatest challenges of our time" should be debated by representatives of Ireland's younger generation.
The politicians were replaced by 10 to 17 year olds in the Dail today. The assembly is now going to make recommendations for how the government can step up.
******
One of those participating – 17-year-old Conal O'Boyle from Donegal – argued: "Although it is a proud moment for all of us here today, I personally feel it's a shame we need be here in the first place.
"The fact that we are sitting in their seats today should serve as a massive embarrassment to them, as they have embarrassed the country on a national level when it comes to climate action."
11-year-old Katelyn Culleton from Ballinasloe in Galway, meanwhile, said climate change is a "worldwide threat" – and highlighted the need to act nationally and globally before it is too late.
In a statement explaining their recommendations, the group said: "We put forward our recommendations for action to stop climate breakdown. We are NOT experts. In our recommendations we offer ideas but we do NOT have answers.
"It is a starting point for adults and particularly for those elected to protect and progress our society. We call on you to listen to the science, to take on board our Recommendations and to work on our behalf to ensure that we – and you – have a future."
#OireachtasTV – Ceann Comhairle Receives the #YouthAssembly Recommendations agreed by the delegates today in #LeinsterHouse – 15 Nov 2019 #Dáil100 #ClimateChange #seeforyourself https://t.co/NuM3iQd63F pic.twitter.com/FnkWm5sHZi

— Houses of the Oireachtas – Tithe an Oireachtais (@OireachtasNews) November 15, 2019