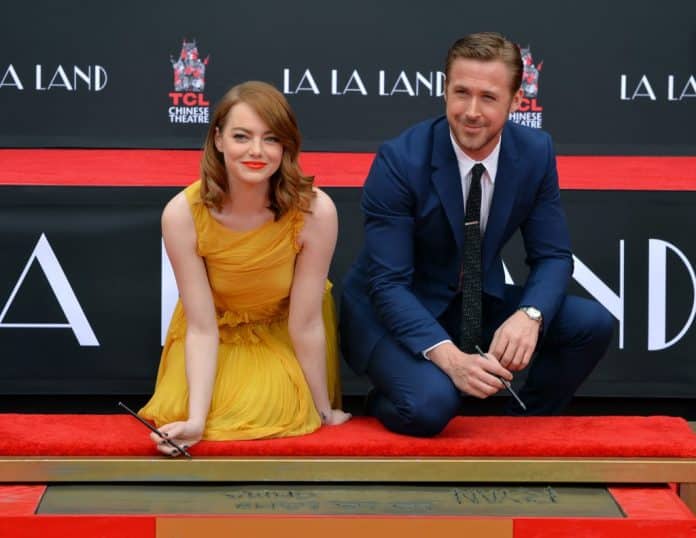 Staying in tonight? Never fear, we have 14 romantic films for you to cuddle up to. Prepare to weep.
1. The Notebook
This tear-jerker is set in 1940s South Carolina, and documents the tale of mill worker Noah Calhoun (Ryan Gosling) and rich girl Allie (Rachel McAdams) who are desperately in love. Allie's parents don't approve, making the movie a modern day Romeo & Juliet.
2. P.S I Love You
Excuse the bad accents on this one and you've got romance at it's finest. Hilary Swank plays the part of Holly Kennedy, who has lost her husband to illness. But her husband planned ahead to help her deal with his death.
3. La La Land
One of the newest films on the list, La La Land is one not to be missed. This musical sees Mia (Emma Stone) and Sebastian (Ryan Gosling) travel through a world-wind love affair, whilst the characters also try to follow their Hollywood dreams.
4. Dear John
On the same level as the Notebook, Dear John is a classic romance. Letters sent back and forth between John Tyree (Channing Tatum) and Savannah Curtis (Amanda Seyfried) while John is deployed, make for a love story which has captured millions of hearts.
5. Notting Hill
You don't have to say the words 'romantic movies' too loud before Hugh Grant pops his head around. Grant plays London bookstore owner William Thacker who meets famous Hollywood actress Anna Scott (Julia Roberts) when she happens to browse in his shop.
6. When Harry Met Sally
In 1977, college graduates Harry Burns (Billy Crystal) and Sally Albright (Meg Ryan) share a contentious car ride from Chicago to New York, during which they argue about whether men and women can ever truly be strictly platonic friends. Ten years later, Harry and Sally meet again at a bookstore, and in the company of their respective best friends they attempt to stay friends without sex becoming an issue between them.
7. Maid In Manhattan
Marisa Ventura (Jennifer Lopez) is a single mother born and bred in the boroughs of New York City, who works as a maid in a first-class Manhattan hotel. By a twist of fate and mistaken identity, Marisa meets Christopher Marshall (Ralph Fiennes), heir to a political dynasty, who believes that she is a guest at the hotel.
8. Titanic
Need we explain? Jack, Rose, Boat, Love, Celine Dion, Iceberg. Beautiful stuff.
9. Me Before You
This is a special film. Mother of Dragons herself, Emilia Clarke plays Louisa 'Lou' Clark who is moving from one job to the next. She becomes a caregiver for Will Traynor (Sam Claflin) – who you might know from The Hunger Games. Will is a wealthy young banker left paralyzed from an accident two years previous. Will's cynical outlook starts to change when Louisa shows him that life is worth living.
10. Michael Bolton's Big Sexy Valentine's Day Special
In the midst of the special's absurdist adventures, Bolton performs an array of love songs made up of both classic hits and all-new original love-making music. Special guests joining Bolton include Andy Samberg, Casey Wilson, Chris Parnell, Eric Andre, Jorma Taccone, Fred Armisen, Maya Rudolph, Michael Sheen, Randall Park and Sarah Silverman. Michael Bolton's Big, Sexy Valentine's Day Special is executive-produced by Michael Bolton, Christina Kline, David Jargowsky, Scott Aukerman and Akiva Schaffer.
11. Focus
An alternate romance film, this will be popular among those of you who prefer a bit of a psychological thrill in a romance film. Will Smith plays con artist Nicky who takes Margot Robbie's character Jess under his wing.
12. Love Actually
Primarily a Christmas film, Love Actually is so good we'll allow it into any list. Hugh Grant pops his head onto your screen again, along with the dear Alan Rickman, Colin Firth, Keira Knightly, Liam Neeson, Emma Thompson and Bill Knighy.
13. Just Friends
High school student Chris Brander (Ryan Reynolds) loves his best friend, Jamie Palamino (Amy Smart). He finally confesses his feelings, but she tells him that she just wants to be friends, and he leaves town in shame. Ten years later, Chris is a successful record executive and involved with self-absorbed pop star Samantha James (Anna Faris). He still pines for Jamie, though, and when his plans to go to Paris for the holidays fall through, he returns to his hometown to try and win her heart.
14. Our Souls at Night
Jane Fonda's character 'Addie Moore' and Robert Redford's character 'Louis Waters' are a widow and widower, who have lived next door to each other for years. When Addie tries to make a connection with her neighbour, the two begin sleeping in bed together platonically, with the innocent goal of alleviating their shared loneliness. As their relationship deepens, however, they each deal with grief and loss, and a real romance begins to blossom.