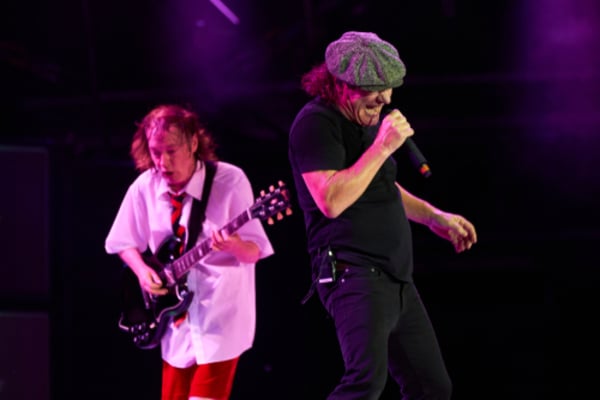 For those about to drink, AC/DC salutes you.
In 1980 AC/DC recorded Have a Drink on Me, and now thirsty fans can avail of their offer.
The Aussie rockers are releasing a pair of new craft beers later this month.
The beers are a collaboration between the band and two breweries – KnuckleBonz, Inc. and Calicraft Brewing Co. The drinks are set for an official launch at a series of events in California over the weekend of July 23rd to 25th.
In a statement, Knucklebonz and Calicraft Brewing said they were jointly "excited to announce this is the first in a series of AC/DC branded beers to be featured in this unique collaboration to bring quality beverages to the music superfan."
The beers in question are AC/DC PWR UP Juicy IPA and AC/DC TNT Double IPA, named after the band's most recent album, 2020's Power Up, and their classic 1975 record T.N.T. respectively.
Both drinks come in 16oz special collector's edition cans and will begin shipping from July 26th. The beers will only be available for purchase in California at launch, with no details of international exports available at this point.
View this post on Instagram
Calicraft mouth-wateringly describes the beers on their website:
AC/DC PWR UP Juicy IPA:
"Inspired by the band's most recent album, AC/DC PWR UP Juicy IPA (6.6%) is our modern take on a juicy/hazy IPA. Designed to be an all day session IPA – perfect for at the show or at the after party. Explosive hop flavours featuring tropical Australian grown Galaxy hops and juicy American Citra and Cascade – massive flavours of bright passion fruit, ripe peaches, and juicy mandarin. Inspired by the newest AC/DC album, AC/DC PWR UP Juicy IPA combines new school vibes with old school cool."
AC/DC TNT Double IPA:
"AC/DC TNT Double IPA (8.2%) is a modern take on a classic style. We blend a mix of Australian Cascade, American Cascade, and Simcoe to create a big, bold 8.2% Double IPA. Flavours of fresh cut grapefruit, sweet mango, and fresh pine explode out of the glass. Inspired by the first international AC/DC album – AC/DC TNT Double IPA proves that classics never go out of style."
The Aussie rockers are no strangers to the craft beer world. They previously collaborated with German brewery Karlsberg to release a beer named Australian Hard Rock. The label on the cans was inspired by the band's 2008 album Black Ice. The collab continued in 2015 when AC/DC and Karlsberg released a pilsner called Rock or Bust in recognition of their 2014 album.
Other rock acts who have released their own beers include Iron Maiden, Motorhead and Status Quo.