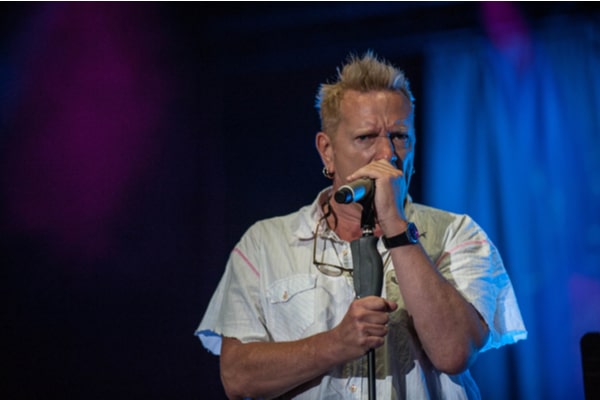 Two former band members of the Sex Pistols, are suing frontman John Lydon after he refused to allow the band's music to be included in Danny Boyle's biopic Pistols.
Guitarist, Steve Jones and drummer Paul Cook are suing Lydon, with their lawyer Edmund Cullen appearing at the High Court yesterday.
Steve Jones' memoir Lonely Boy: Tales of a Sex Pistol serves as a basis for the biopic.
"Majoirty rules basis"
According to the Associated Press, Cullen said that an agreement was made in 1998, stating that decisions about licensing requests could be decided by a "majority rules basis". 
Lydon has argued that the licensing cannot be allowed with his consent. Along with Jones and Cook, the band's orginal bassist Glen Matlock and the estate of the late Sid Vicious support the inclusion of the music in Danny Boyle's biopic.
Lydon's lawyer, Mark Cunnigham QC has argued that the biopic shows his client in a "hostile and unflattering light". Cunningham also referred to a passage from Steve Jones' book which describes Lydon as a "annoying little brat with the great bone structure who's always asking for more".
The case is to continue next week.
Why was Lydon not included in Danny Boyle's Pistols?
Back in April, Lydon had branded the biopic "a disgrace". He had also claimed that production took place without his permission.
"I think that's the most disrespectful s**t I've ever had to endure", Lydon said.  I mean, they went to the point to hire an actor to play me but what's the actor working on? Certainly not my character. It can't go anywhere else (but court)". 
Since then, it was reported that John Lydon was snubbed from the biopic for being "too difficult to work with".
Jordon Mooney, former muse for the Pistols, said that Lydon was not included in the development of Pistols due to his attitude.
"He would just be a saboteur and he wouldn't bring much to the table", Mooney said. "John argues for the sake of arguing. He's a difficult person and I can't say that part of him has changed at all". 
She also added, "As he's got older, he's only got more difficult – he's contrary… John has got a few issues about his importance in the world so him not being involved is the best thing that can happen". Read more on that here. 
Pistols is expected to be broadcasted on the Disney owned channel FX next year.