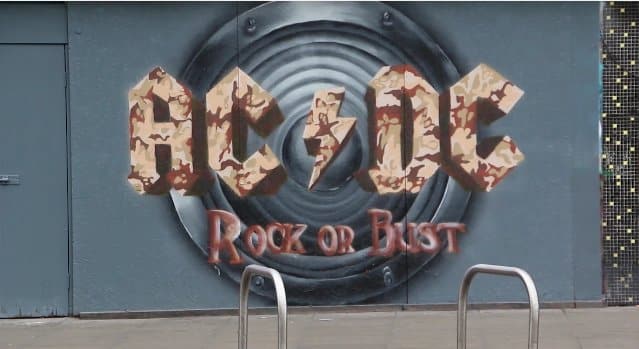 Australian rockers AC/DC posted a new promotional video shot in Ireland's capital on their official YouTube channel.
Rock Or Bust is the group's latest LP and it definitely sounds like classic AC/DC.
AC/DC unveiled their first record in six years last week.
Rock Or Bust is the band's 15th studio album, their first since 2008's Black Ice.
Now the Aussie lads have put out a short promo video for the LP, the footage shows Dublin's Camden Street Lower. If you've ever walked along the Wexford street, heading up towards the Grand Canal, you must have noticed several art pieces that are dotted along the route on unused shop front shutters.
In a time-lapse style video, two doors up from Flannery's pub, a commissioned art piece is created for the rock icons.
As the video starts, it doesn't look like anything more than a few circles or possibly a math student that really wants to create a piece of art dedicated to finding the radius of a circle.
However, it soon becomes clear that this isn't a mathematical inspired painting, it's a very cool piece of graffiti for AC/DC's new record Rock Or Bust.
Watch the video below.
This will be the first AC/DC record without Malcolm Young. The band and his family both confirmed that the guitarist will not be returning to the group, due to health issues.
Malcolm Young co-founded AC/DC in November 1973 with his younger brother Angus, they were 18 and 20 years-old. Malcolm played with the band for 40 years as the rhythm guitarist, he was heavily involved in the band's sound, developing many of the band's signature guitar riffs and co-writing material with Angus.
Controversy has surrounded the band in recent weeks after AC/DC's drummer was arrested for trying to arrange a murder. The charge of attempting to procure the murder of two people has since been withdrawn. Although, the two other charges of threats to kill and drug possession still stand.