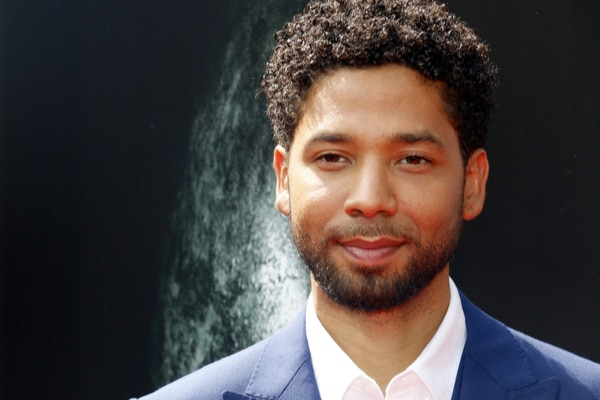 Jussie Smollett has been jailed over falsely claiming that he was the victim of a hate crime.  
The Empire actor was sentenced to five months in prison, having been found guilty in court last December.
Smollett was found guilty on five counts of felony, disorderly conduct for falsely reporting this crime. He had alleged that he was the victim of a hate crime over his sexuality and skin colour.
In January 2019, Smollett told police that he was attacked, claiming that he was assaulted by a group of unknown men, who poured bleach over him.
Smollett also alleged that this group of men shouted homophobic and racial abuse at him. The actor also added that they tied a noose around his neck.
Didn't Add Up 
However, Smollett's story began to unravel when the police launched their investigation. The interesting factor being that the actor refused to hand over his mobile phone.
Despite making a statement where he claimed that his version of events were '100 percent factual and consistent on every level', Smollett was subsequently arrested a month after he had made the initial complaint.
Having grown more suspicious of this alleged claim over the coming weeks, police had discovered that Smollett paid brothers Abimola and Olabinjo to stage a fake attack for publicity.
Both brothers later testified against Jussie Smollett. They told the court that he paid them $3,500 to carry out this false attack.
The Empire star denied this allegation, claiming that he wrote this cheque for nutrition and training advice for Abimola Osundairo while he was out of town.
Smollett Hollywood Career Is"essentially over"
Following nine hours of deliberation, the actor was sentenced to five months imprisonment via a uniaminous decision.
Ahead of his sentencing, PR expert Ronn Torossian said that Smollett's career in Hollywood is "essentially over", irrespective of the verdict.
"Maybe this guy will appear on some third rate reality show. But I think that Jussie Smollett's career in Hollywood is essentially over", he said.