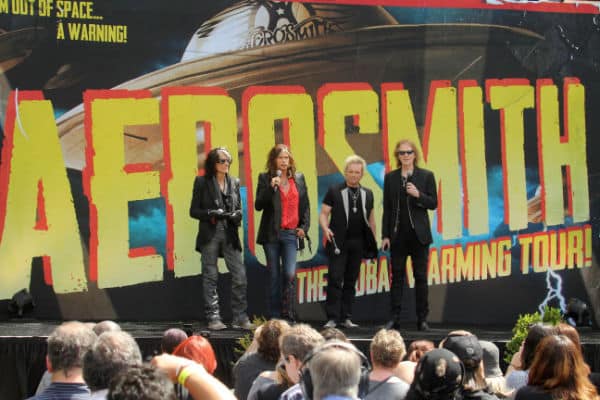 Would you like to listen to the article instead of reading it?
Aerosmith appear to be hinting at a possible Farewell Tour.
This comes as the band's iconic logo crept across America, with the letters forming the words 'Peace Out'. 
The logo has cropt up across Denver, Atlanta, San Francisco, as well as Boston in recent days. A Twitter thread of the logo's sightings has also been collated by Rock Music personality Mitch Lafon.
On top of this, the band's official website displays a clock, which is set to expire on May 1, leading fans to speculate that a major announcement is on the horizon.
Peace Out? Sounds like our May 1st announcement is a Farewell Tour #Aerosmith #70s #rock #music pic.twitter.com/yA0RkTooEF

— Mitch Lafon (@mitchlafon) April 26, 2023
"looks like we're gonna do it"
These social media sightings would also coincide with what Aerosmith guitarist Joe Perry said on a possible tour earlier this month.
"We are gonna announce the tour and it's gonna start in September and will go into next year", Perry stated. "And, being one of the guys who votes on this kinda thing, it looks like we're gonna do it".
Joe Perry also spoke about drummer Joe Kramer's involvement in this upcoming Aerosmith tour.
"That's probably one of the hardest things. Drumming is probably one of the most athletic parts of playing in a band, so it's really hard", he said.
"It's been, mostly because physically, [Joey has] just been beating himself up over the last 50 years. So, I don't know. I mean, he's still officially a member of the band. But I don't think he's gonna be sitting behind the drums, at least for this next run". 
Perry also spoke about the possibility of Aerosmith releasing new music in the future.
"At this point, I can't say. I really don't know," he said."But I know that we have a pile of material that hasn't been released. So I think that we're focusing on that right now. But the main thing is just getting this tour up and running". 
More on this from Nova here.