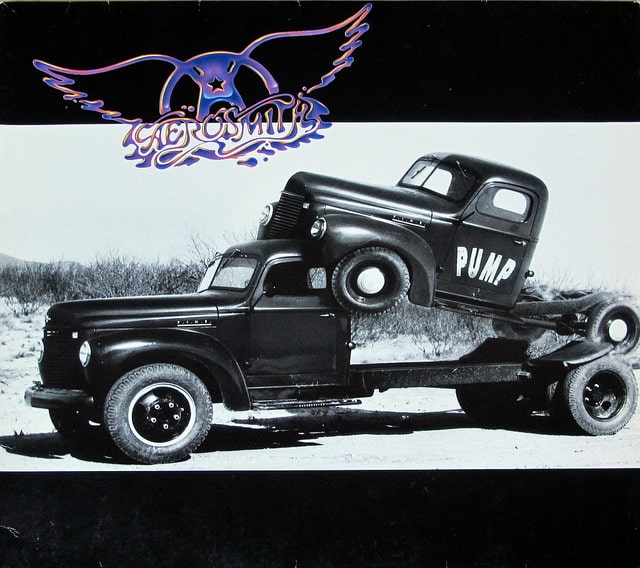 Pump is the tenth studio album from Aerosmith and it was released on September 18th, 1989. It broke new ground for the band with their first Grammy nomination and 'Love In An Elevator' being the first Aerosmith song to hit #1 on the Mainstream Rock Charts.
Where Permanent Vacation seemed a little overwhelmed by its pop concessions, Pump revels in them without ever losing sight of Aerosmith's dirty hard rock core.
Which doesn't mean the record is a sellout — 'What It Takes' has more emotion and grit than any of their other power ballads; 'Janie's Got a Gun' tackles more complex territory than most previous songs. On 'Monkey on My Back,' the band bears personal witness to the repercussions of drug abuse. 'Voodoo Medicine Man' is a biting commentary on the dismal state of the planet.
That's not to say that Aerosmith has entirely forsaken its love for hokey comic-book sexcapades set to song. With tracks like 'Love in an Elevator', 'Young Lust' and 'My Girl',  the pranksters of old come out to play fairly often.
The pacing of Pump practically guarantees that the listener's interest will never wane. Brief attention grabbers — snippets of hillbilly music, spoken segments, offbeat instrumental side trips — are interspersed with the songs. And the album's ballads are far outnumbered by reminders — like the runaway-train stomp 'F.I.N.E.' and the slapstick shuffle-rhythm boogie 'My Girl'— that Aerosmith still likes things fast and loud.
Tracklist:
1. Young Lust
2. F.I.N.E.
3. Love In An Elevator
4. Monkey on My Back
5. Janie's Got A Gun
6. The Other Side
7. My Girl
8. Don't Get Mad,Get Even
9. Voodoo Medicine Man
10. What It Takes
Photo Credit: vinylmeister