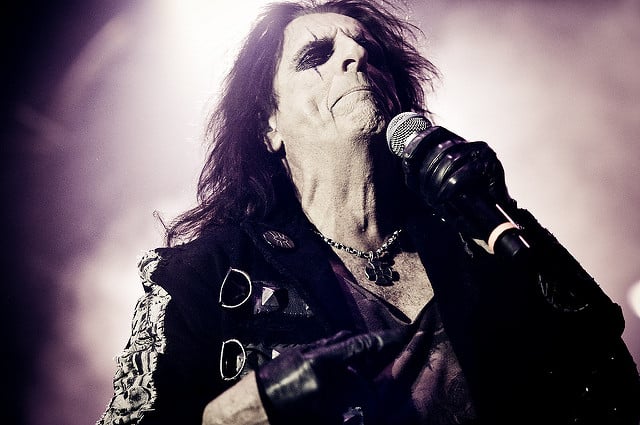 School's out for summer, and the lads are back together. Alice Cooper's original line up is reforming after 42 years apart.
Cooper and co have lined up five dates in all, starting Nov. 11 at the First Direct Arena in Leeds and continuing through Nov. 16, when they're booked at the SSE Arena, Wembley in London.
Unfortunately for Irish fans, this reunion wont overlap with the Irish shows of November 8th and 9th in the Olympia.
This is the first time 46 years that the lineup returning to the U.K. after they first visited in 1971. The band will be supported by  the Mission and the Tubes.
Alice spoke on his website and discussed the Alice Cooper reunion: "When the original band broke up in 1975, there was no bad blood, there were no lawsuits — we had just burned out the creative process. We had gone to high school together and had recorded something like five platinum albums in a row. We were never out of sight of each other for ten years. Everybody just went their own way. Neal, Dennis and I always stayed in touch. Mike disappeared for a while and Glen Buxton passed away in 1997, which was a big blow. But last year Neal called me up and said, 'I have a couple of songs.' I said, 'Great. Bring 'em over.' Then he said Mike was stopping by, so I had them come to my house and we just worked on a few things for a week. Then Dennis called up and said, 'I got a couple songs.' So, I thought, 'Hey, let's do this!' When you listen to the record, it just fits right in."
Previous to this announcement there had been a lot of rumours of an Alice Cooper reunion between the guys, as they contributed to his upcoming Paranormal LP. In addition to that, they joined him for a special "mini-set" during his May 14 appearance in Nashville, after which Dunaway expressed a willingness to keep the reunion going.
"I was on cloud nine over how many amazing fans had gone to such lengths to be there," he said of the Nashville show. "Some came from Canada, France and even Australia. As far as future reunion shows, hopefully our fans will make a big enough noise to reach the ears of the concert promoters."
Alice Cooper 2017 U.K. Tour Dates With Original Band
11/11 – Leeds – First Direct Arena
11/12 – Glasgow – The SSE Hydro
11/14 – Birmingham – Barclaycard Arena
11/15 – Manchester – Manchester Arena
11/16 – London – The SSE Arena, Wembley
Picture Credit: Vesa