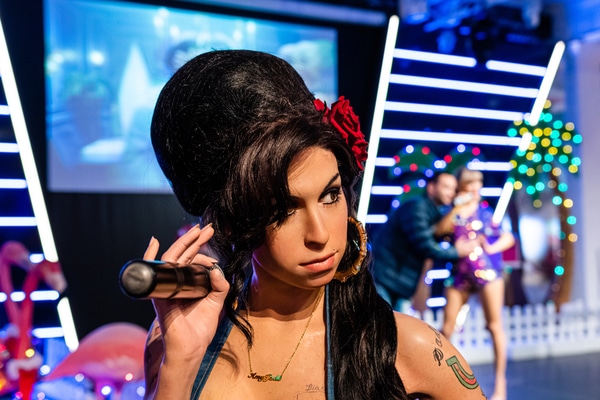 In a previously unheard interview from 2003, Amy Winehouse revealed that she started drinking whiskey aged 12.
A recording of an interview from a 20 year old Amy was shared by The Sun. In it, Winehouse revealed her drinking habits. Amy Winehouse sadly passed away from alcohol poisoning in 2011.
Amy Winehouse 2003 interview
"I love Jack Daniel's. I just love Jack Daniel's. I just love it. It's great", a 20 year old Amy Winehouse said.
She continued, "I drink every day but not usually Jack Daniel's. I've been drinking Jack Daniel's for eight years or something".
"Everyone knows. It's like Jack and Coke", she said. "It's like when you're younger and you want to get that little bit drunker than everyone else, you drink whisky. You know what it's like as a kid". 
"You know what other alcohol I like — tequila", she added. "And I like Dooley's toffee vodka. Oh my God, I could drink a bottle of that every night easily". 
Reclaiming Amy
Amy Winehouse still achieved so much and touched so many during her life. The singer won 24 awards from 60 nominations during her music career. She won 5 Grammys for her 2008 album "Back 2 Black".
Last night, a documentary called Reclaiming Amy aired last night on BBC. On it, Amy's parents Janis and Mitch who split up when Amy was ten years old, talk about about their daughter and her legacy.
Janis is suffering from multiple sclerosis, she said she wanted to make the documentary to have a permanent reminder of Amy.
"I don't feel the world knew the true Amy", she said in a statement ahead of the documentary's screening. "The one that I brought up, and I'm looking forward to the opportunity to offer an understanding of her roots and a deeper insight into the real Amy". 
"We wanted for people to get a different view of her, to understand she was a loving, kind and very generous person", added Mitch.
"You can't airbrush all the horrible stuff out. We wouldn't do that. But we wanted to emphasise what she was really like. Even through the times she was seriously ill, what got her through it and what got us through it was our sense of humour". 
Mitch also said recently that he wants people to remember Amy for her musical talents and not just for her struggles with addiction. More on that report here.