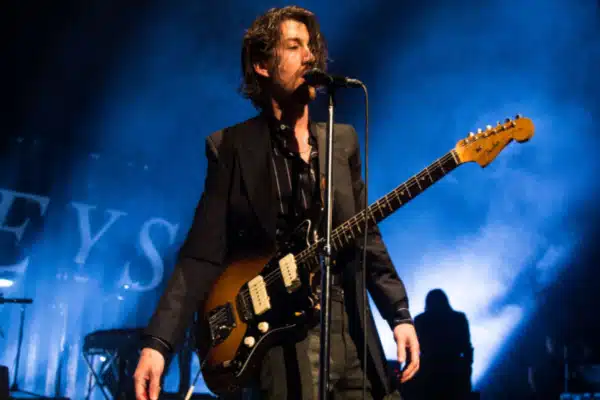 Would you like to listen to the article instead of reading it?
Arctic Monkeys are busy rounding out their 'The Car' tour with three Dublin shows in the 3Arena. The first of the trilogy was last night and fans were treated to an incredible setlist and even a string section.
It was rumoured that the band had called on the string section for their Glastonbury set in June.
However, when front man Alex Turner took ill in the run up to the festival and rehearsal time was cut short, the band opted not to use the strings.
It was this illness that also prevented Arctic Monkeys from playing their Marley Park date the week prior to Glasto, leaving Irish fans gutted.
Marley Park was then substituted for the 3Arena trilogy, which also marks the end of the entire tour. So, the Sheffield four-piece seemed eager to make up to their loyal Irish following, and finally called on the string section to mark the occasion.
AM classics like 'I Bet You Look Good on the Dancefloor' and 'Crying Lightning' were played with the blistering energy fans would expect, while the string section brought an added layer to tracks like 'Do I Wanna Know' and 'There'd Better Be A Mirrorball.'
For those fans not 3Arena bound for Tuesday and Thursday's tour-closing shows, you can get a glimpse of the string-section-driven version of '505' here:
The setlist last night was:
01. 'Sculptures Of Anything Goes' (with string section)
02. 'Brianstorm'
03. 'Snap Out Of It'
04. 'Don't Sit Down 'Cause I've Moved Your Chair'
05. 'Teddy Picker'
06. 'Crying Lightning'
07. 'Tranquility Base Hotel + Casino'
08. 'Why'd You Only Call Me When You're High?'
09. 'Arabella'
10. 'Cornerstone'
11. 'The View From The Afternoon'
12. 'Knee Socks'
13. 'Pretty Visitors'
14. 'Fluorescent Adolescent'
15. 'There'd Better Be A Mirrorball' (with string section)
16. '505' (with string section)
17. 'Do I Wanna Know?' (with string section)
18. 'Body Paint' (with string section)
19. 'Hello You' (with string section)
20. 'I Bet You Look Good On The Dancefloor'
21. 'R U Mine?'