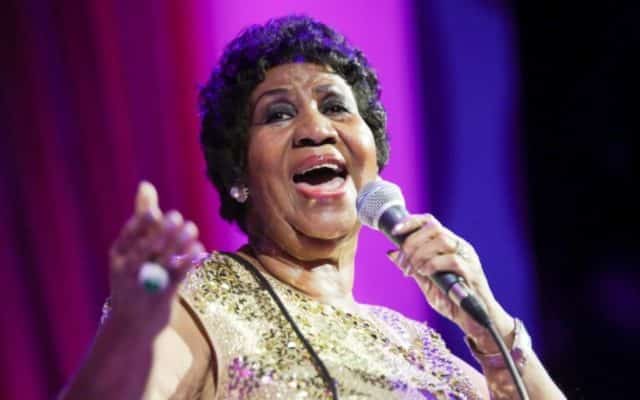 The 'Queen of Soul' Aretha Franklin is said to be 'gravely ill' and 'surrounded by family' according to reports.
The iconic artist is said to be hospitalized in Detroit after battling extensive health problems over recent years, according to a report published by Showbiz 411. The legendary singer's family and loved ones are at her bedside, and have asked fans to respect her privacy and pray for the star during this time.
Franklin, whose legacy has lived on over the decades, was diagnosed with cancer in 2010. The legendary singer made a statement in US weekly following tweets claiming that she had passed away, saying that she was 'doing well', and 'all tests have come back good'. Franklin announced her retirement following her last record in 2017, 'A Brand New Me', confirming at the time that she felt 'very, very enriched and satisfied' with her hugely successful career, where she secured her title as the 'Queen of Soul'. Her most recent performance for the Elton John AIDS foundation in New York last November was described as miraculous, despite the star's struggle with exhaustion and dehydration at the time.
The critically acclaimed soul superstar, who achieved her initial success in 1961, is famous for her hugely successful songs, including 'Respect' (1967), 'I Say A Little Prayer' (1968) and '(You Make Me Feel Like) A Natural Woman' (1967). Famous for her impassioned vocals and soulful sound, Franklin has had a legendary career and is cited as the greatest female singer of modern times. In 1987, she became the first woman featured in the Rock and Roll Hall of Fame and has received 18 Grammy awards, including one for Lifetime Achievement, making her one of the most honored artists in Grammy history. In addition to this, Franklin has performed at three presidential inaugurations where she moved Barack Obama to tears with her powerful vocals. In 2005, Franklin was awarded the Presidential Medal of Freedom by the then-president George W. Bush.
To celebrate Aretha Franklin's legacy, we have comprised a list of what may be considered as some of her most iconic hits:
Respect (1967)
https://www.youtube.com/watch?v=6FOUqQt3Kg0
(You Make Me Feel Like) A Natural Woman (1967)
https://www.youtube.com/watch?v=dEWuAcMWDLY
I Say A Little Prayer (1968)
https://www.youtube.com/watch?v=KtBbyglq37E
Think (1968)
https://www.youtube.com/watch?v=hsL9UL9qbv8
Do Right Woman, Do Right Man (1967)
https://www.youtube.com/watch?v=VhdgFfNsst0
Dr Feelgood (Love Is A Serious Business) (1967)
https://www.youtube.com/watch?v=d-2I1JKwIzo