Would you like to listen to the article instead of reading it?
The legendary American singer, activist, and actor Harry Belafonte has died at the age of 96 after a stellar contribution to breaking down barriers for African-American people throughout the 20th century.
The New York Times reports that the cause of death was congestive heart failure.
Belafonte grew up in New York as the son of Caribbean immigrants. Although he recorded many different genres of music, he became known as the "King of Calypso" thanks to his Caribbean hits "The Banana Boat Song (Day-O)" and "Jump in the Line" in the 1950s.
1956 album Calypso also became the first LP to achieve a million sales. In addition to recording numerous studio albums, he was accomplished on stage (winning a Tony Award in 1953), screen (starring in multiple films and in his TV variety specials), and as a civil rights activist.
Belafonte's final studio album, Paradise in Gazankulu, arrived back in 1988.
An activist, Belafonte was a prominent voice in the civil rights movement and a close friend of Dr. Martin Luther King Jr. He supported causes like UNICEF and came up with the idea to record the star-packed charity single "We Are the World".
Belafonte was a true confidant of the late activist Dr. Martin Luther King, Jr.
In 1963, he helped organise the Freedom March on Washington, where King delivered his "I Have A Dream" speech.
He also helped organise Nelson Mandela's first trip to the U.S. after he was released from prison.
He was extremely critical of George W. Bush, endorsed Bernie Sanders, and referred to Donald J. Trump's election as the coming of "the Fourth Reich."
His great friend the recently departed, fellow-acting legend Sidney Poitier once put it, Belafonte was an "invaluable energy force" and "always a gutsy guy."
Harry Belafonte is survived by his wife, Pamela Frank; four children; two stepchildren; and eight grandchildren.
Belafonte received a Kennedy Centre Honour in 1989, the National Medal of Arts in 1994, and a Grammy Lifetime Achievement Award in 2000.
He is among the select group of artists to have received an Emmy, Grammy, Oscar, and Tony for his work.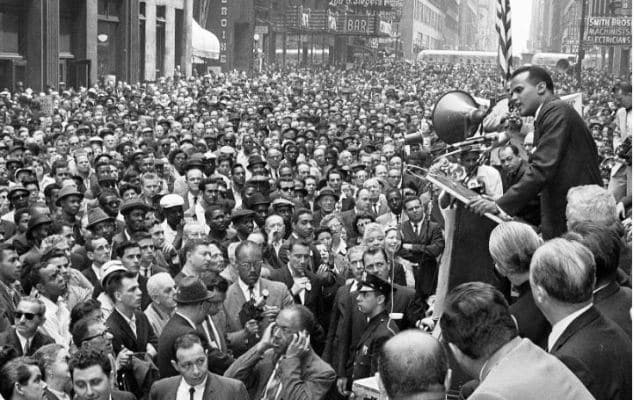 We have lost the great Harry Belafonte-beautiful singer, brilliant and brave civil rights activist, a deeply moral and caring man. Miss you already Harry 💔 pic.twitter.com/ZfxYLWqSMU

— Mia Farrow 🧡🏳️‍🌈 🌻🇺🇸☘️ (@MiaFarrow) April 25, 2023
I'm heartbroken at hearing of the death of Harry Belafonte, a true mentor & friend. I cherished the time he would give me & others to guide us & correct us. He was a history changing activist, a culture changing entertainer, & an unmatched intellectual. RIP & Power, Mr. B✊🏾❤️🕊️ pic.twitter.com/nSsHz4sHxb

— Reverend Al Sharpton (@TheRevAl) April 25, 2023
"When I was born, I was colored. I soon became a Negro. Not long after that I was black. Most recently I was African-American. It seems we're on a roll here. But I am still first and foremost in search of freedom."

May you Rest in Peace, Harry Belafonte, 1927-2023.

💔🕊️🕯️ pic.twitter.com/NYEScSCNt6

— Tibor M. Kalman (@kalmantibs) April 25, 2023