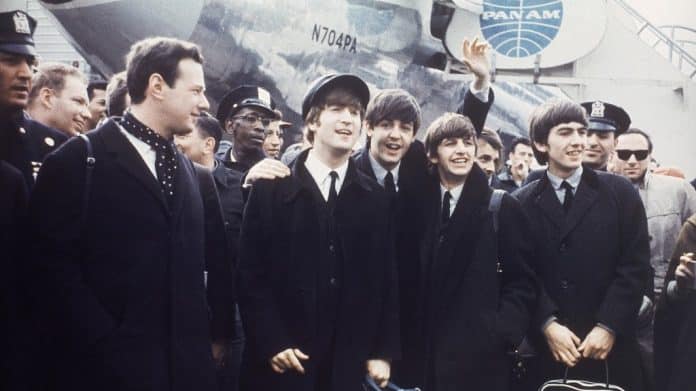 Every day on Radio Nova, just before 11am, we play a couple of songs key to "today in music history" Have a listen! But for now – here's some light reading and watching.  November 7th in Music History looks like this.
After today in 1963,  Ireland would never be quite the same again. The Beatles had come to town for two sold-out shows at the Adelphi.
What happened in Dublin was a riot. The 3,000 pumped up crowd for the first, early show came streaming out only to run full tilt into the 3,000-second show patrons.
Neither crowd gave way, pushing and shoving ensued.  Then it turned nasty. Placed was wrecked!
1967, Reg Dwight (Elton John) and his song writing partner Bernie Taupin signed to DJM publishing, their signatures had to be witnessed by their parents because they were both under 21 years of age.
1975, A new world record was set for continuous guitar string plucking by Steve Anderson who played for 114 hours 17 minutes.
1991, Rhythm guitarist Izzy Stradlin quit Guns N' Roses and was replaced by Gilby Clarke. Stradlin said a combination of Axl Rose's personal behaviour and the difficulties of being around Slash, Matt Sorum, and Duff McKagan, due to his new-found sobriety.
2014, Australian drummer of AC/DC, Phil Rudd, had a charge of attempting to arrange a murder dropped in New Zealand, but he will still facing charges of drugs possession and making threats to kill.
2014, Two wealthy fans paid $300,000 to eat lasagna with Bruce Springsteen at his house. Springsteen started off the annual Stand Up For Heroes event by playing an acoustic set, then offering the instrument to the highest bidder. When bidding reached $60,000, he threw in a guitar lesson, which someone offered $250,000 for. At this point, he offered up a lasagna dinner at his house.
2016, Canadian singer, songwriter and poet Leonard Cohen died at the age of 82 at his home in Los Angeles. Cohen pursued a career as a poet and novelist during the 1950s and early 1960s, and did not launch a music career until 1967, at the age of 33.
Happy birthday to Hothouse flower Liam O'Maonlai, the genius that is Joni Mitchell, Texas front woman Sharleen Spiteri and Neil Hannon!
Don't forget you can now get This Week in Music History from Nova.ie and Radio Nova.
To subscribe to the podcast, just click here