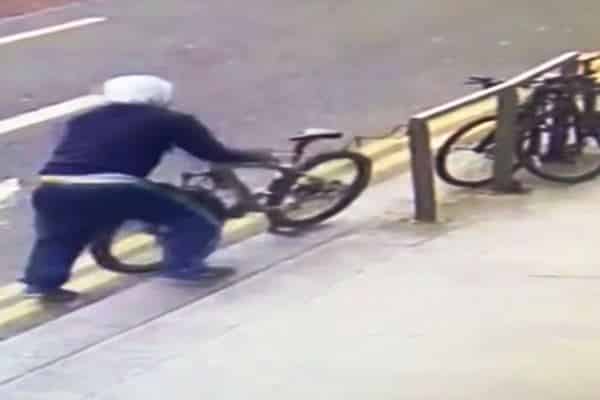 If you don't want your bike to be stolen, kick it up! That's according to An Garda Síochána, who are appealing to cyclists to take extra precautions in keeping their bicycles safe by locking them in the most secure way possible, as eye-popping new figures show 14,000 bikes have been stolen since 2016.
Figures from Garda Analysis Services show bike theft was up 7.5% in 2017 and is on course to increase again in 2018. The average cost of a bike stolen is around €510.
The most common time for a bike to be stolen is between 8 am and 5 pm, with Friday, statistically the most common day for an act of thievery against the unsuspecting.
The analysis also shows that Dublin, Cork, Limerick and Galway make up 83% of the theft of bikes. 52% of bikes are stolen on public streets. 32% are stolen from homes.
Crime Prevention Advice
Spend 10% to 20% of the value of your bike on two locks.
Lock your bike tightly to an immovable object.
Keep the lock off the ground.
Take a photo of your bike, note the serial number and email it to yourself so that you have a record of it.
Lock your bike indoors or in well-lit areas if possible.
Speaking at Anglesea Street Garda Station, Crime Prevention Officer Sergeant Tony Davis said
'We are appealing to everyone from the pros to the Sunday cyclist to lock their bikes as securely as possible. There has been an increase in the number of people cycling over recent years but unfortunately there is poor awareness of bike security. Nowadays with cycle the to work schemes, people are investing in more expensive bikes so it makes sense to invest in quality locks to prevent bike theft.

A few simple tips such as; spending 10% to 20% of the value of the bike on two locks, locking your bike tightly to an immovable object and keep the lock off the ground, will make life difficult for the thief. Take a photo of your bike, note the serial number and email it back to yourself so you have a record of it. Of the 14,000 or so bikes stolen since 2016, we have only approximately 16% of the bicycle frame numbers recorded'.
Sergeant Davis added:
'There is a trend of not reporting theft of bikes to Gardaí which makes it difficult for us to reunite any recovered bikes with their owners. If your bike is stolen, report the theft to Gardaí as soon as you can. If you are buying a second hand bike, look for proof of ownership before purchasing. If you have had your bicycle stolen, you can go onto the Garda website to view bicycles and all other property that is currently in our property stores. Finally, I would ask all bicycle suppliers to highlight the 'Lock it or Lose it' campaign when someone is purchasing a bike'.