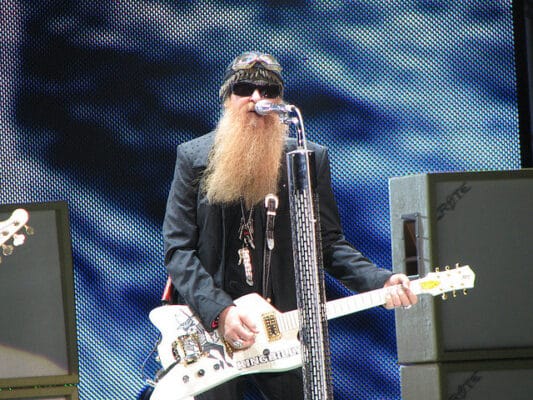 ZZ Top's Billy Gibbon's third solo album is to be released via Conord Records. The album is called Hardware. It will be released on June 4. You can pre-order it here.
He will also be backed by former Guns N'Roses drummer Matt Sorum as well as guitarist Austin Hanks. Both Hanks and Austin worked with Gibbons on his previous solo album, The Big Bad Blues in 2018.
The tracks include "West Coast Junkie", "Desert High",and Robert Robertson's "Somewhere Down The Crazy River".
Speaking recently about the album, Gibbons called it a tribute to the late Joe Hardy. Hardy was a legendary recording engineer, who has worked with both Gibbons and ZZ Top since the 1980s.
Hardware was recorded in Escape Studio near Palm Springs, CA. Gibbons produced the album alongside Sorum and Mike Fiorentino. Chad Shlosser is an engineer who provided additional production.
Hardware will also included a cover of Hey Baby, and Que Paso which were orginally recorded by the Texas Tornados. It also boasts ten Gibbons-Sorum-Fiorentino-Shlosser orginals.
"Replete with shifting sands"
Gibbons also said, "The desert settings, replete with shifting sands, cacti and rattlesnakes makes for the kind of backdrop that lends an element of intrigue reflected in the sounds created out there". 
Summing up the album, Gibbons commented, "We holed up in the desert for a few weeks in the heat of the summer and that in itself was pretty intense. To let off steam we just 'let it rock' and that's what Hardware is really all about. For the most part, it's a raging rocker but always mindful of the desert's implicit mystery".
Gibbons also featured on Mick Fleetwood's tribute concert for Peter Green.
On this Fleetwood said, "Two years before this event happened, I knew that in theory, I had Steven Tyler and Billy Gibbons".
He also added, "They always wanted to do this. I was able to re-approach them and it all fell into place".