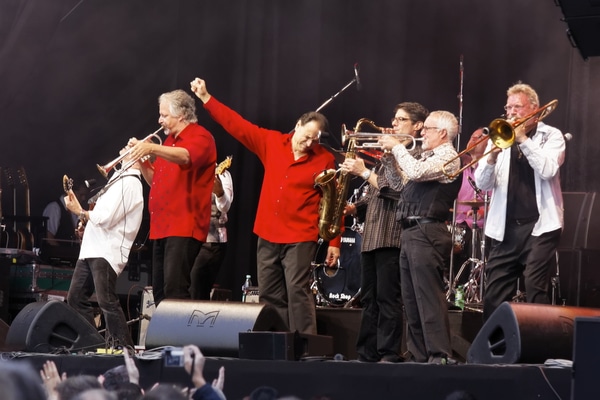 Multi-instrumentalist and co-founder of Blood, Sweat & Tears, Dick Halligan has recently passed away at the age of 78. His daughter, Shana confirmed the passing to People magazine, noting her father died of natural causes on January 18th.
Growing up in upstate New York, a fascination for big band music grew within through Halligan with admiration for the likes of Stan Kenton, Tommy Dorsey, and Glenn Miller. He went on to receive a Master of Arts degree in music theory and composition from the Manhattan School of Music, while continuing his studies in voice and piano.
Then in 1967, the aspiring musician gained invitation to what would become his future identity through original Blood, Sweat & Tears saxophonist, Fred Lipsius. According to yesterday's statement shared by People, "Halligan initially turned him down, but later changed his mind when they said they were going to California – a place Halligan wanted to see."
On the band's debut hit in February 1968, Child Is Father to the Man, Halligan played trombone. Garnering only a modest amount of attention, the LP set the stage for Blood, Sweat & Tears' breakthrough self-titled sophomore release.
December 1968 saw three hit singles from the jazz-rock music group dominate the Billboard 200 with the arrivals of You've Made Me So Very Happy, And When I Die, and Spinning Wheel. Whilst working on the remaining LP, Halligan's impact was felt throughout as he provides trombone, organ, piano, flute, and vocals on various tracks.
The multi-instrumentalist co-wrote three songs for his final album with Blood, Sweat & Tears 4, before departing in 1971. The previous year had seen the band win a Grammy for Album of the Year, with opening track, Variations On A Theme by Eric Satie – which Halligan arranged – scooping Best Contemporary Instrumental Performance.
Following his departure from Blood, Sweat & Tears, Halligan went on to change careers and had huge success with film and television projects. TV series, Holmes and Yoyo, The Bionic Woman, and B.J. and the Bear, are just an insight into his magnificent portfolio. The aspiring creator is also known for his work in movies such as The Owl and the Pussycat, Go Tell the Spartans, and the Chuck Norris films; A Force of One, and The Octagon.