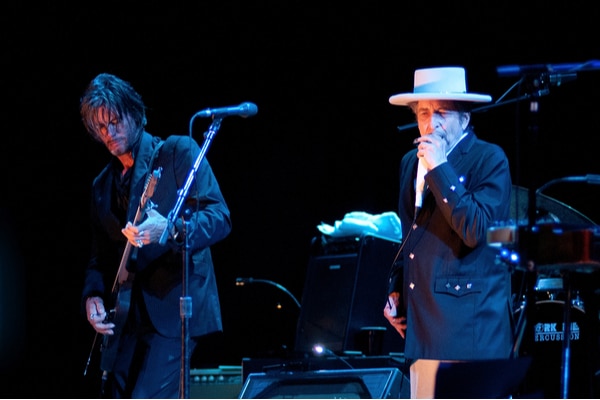 Bob Dylan is to release a collection of essays in a new book, The Philosophy Of Modern Love. The book is set to arrive via Simon & Schuster on November 8.
The book consists dozens of essays that Dylan wrote about songs by other musicians. Such musicians also include Elvis Costelloe, Nina Simone and Hank Williams.
"how bluegrass relates to heavy metal"
"[Dylan] analyses what he calls the trap of easy rhymes, breaks down how the addition of a single syllable can diminish a song, and even explains how bluegrass relates to heavy metal", a press release for the book said. "These essays are written in Dylan's unique prose".
The release also added, "While they are ostensibly about music, they are really meditations and reflections on the human condition".
"An international celebration of songs"
Jonathan Karp is the CEO of Simon & Schuster. He also released this statement.
"The publication of Bob Dylan's kaleidoscopically brilliant work will be an international celebration of songs by one of the greatest artists of our time".
He also added, "The Philosophy of Modern Song could only have been written by Bob Dylan. His voice is unique, and his work conveys his deep appreciation and understanding of songs, the people who bring those songs to life, and what songs mean to all of us".
Announcing The Philosophy of Modern Song, a master class on the art and craft of songwriting and first book of new writing since 2004's Chronicles: Volume One, from Nobel Prize laureate Bob Dylan. Learn more and pre-order your copy here: https://t.co/RaKTisLl4w pic.twitter.com/614rbZOml8

— Bob Dylan (@bobdylan) March 8, 2022
Bob Dylan Sells Back Catalogue To Sony Music
This also comes after Bob Dylan had also agreed to sell his entire back catalogue to Sony Music. The singer's work from 1962 will go to Sony as a result.
"Columbia Records and Rob Stringer have been nothing but good to me for many, many years and a whole lot of records. I'm glad that all my recordings can stay where they belong", Dylan said in a statement.
Sony Music chairman Rob Stringer also had this to say. "We are excited to work with Bob and his team to find new ways to make his music available to his many fans today and to future generations", he said.