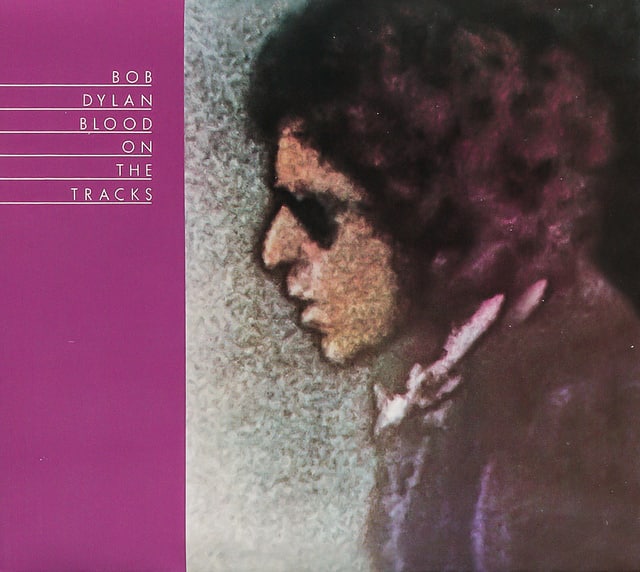 Blood On The Tracks is the fifteenth studio album by American folk singer songwriter Bob Dylan. The album was released on 20th January 1975.
Following a successful tour in 1974 with The Band, musically Bob Dylan was on a roll. However, in his personal life, things were far from perfect. Dylan found that his home life was struggling as his relationship with then-wife Sara was starting to show cracks. The two had been estranged by the time Dylan went into the studio to record the follow up to the live Before The Flood album.
The result is that Dylan's troubles came out on record as the singer laid his soul bare on Blood On The Tracks. Songs were focused around the break down of relationships but represented some of Dylan's strongest writing to date. Recording was split between New York City and Minneapolis with each city having it's own influence on Dylan's lyrics and music.
While initially there were mixed reviews around the album, 40 years on it has never sounded stronger. Nowadays the album is seen as one of the Dylan's finest and was named as the 16th best album of all time by Rolling Stone in their 500 Greatest Albums Of All Time. The album contains some of Dylan's classics including 'You're A Big Girl Now' and the single 'Tangled Up In Blue'.
Track Listing:
Side One:
1 – Tangled Up In Blue
2 – Simple Twist Of Fate
3 – You're A Big Girl Now
4 –  Idiot Wind
5 – You're Gonna Make Me Lonesome When You Go
Side Two:
1 – Meet Me In The Morning
2 – Lily, Rosemary And The Jack Of Hearts
3 – If You See Her, Say Hello
4 – Shelter From The Storm
5 – Buckets Of Rain
Photo Credit: Jazz Guy