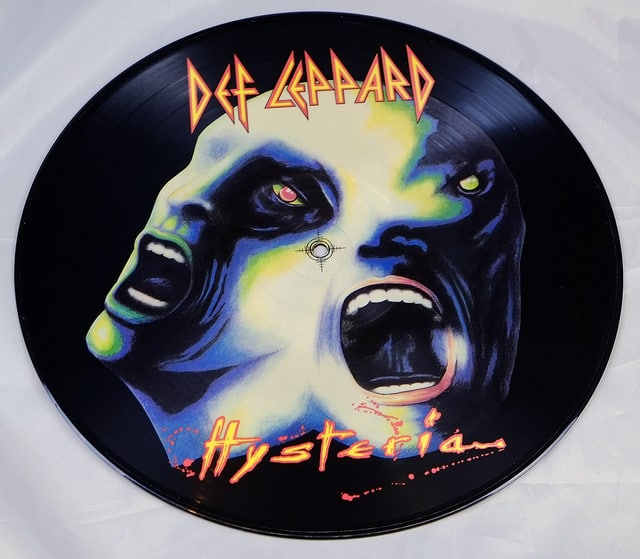 Hysteria is the fourth studio album by Def Leppard, it was released on August 3rd 1987. It became the band's biggest selling album after it sold 20 million copies worldwide.
Where Pyromania had set the standard for polished, catchy pop-metal, Hysteria only upped the ante. Pyromania's slick, layered Mutt Lange production turned into a painstaking obsession with dense sonic detail on Hysteria , with the result that some critics dismissed the record as a stiff, mechanized pop sell-out (perhaps due in part to Rick Alen's new, partially electronic drum kit).
But Leppard's music had always employed big, anthemic hooks, and few of the pop-metal bands who had hit the charts in the wake of Pyromania could compete with their sense of craft, certainly none had the pop songwriting savvy to produce seven chart singles from the same album, as the stunningly consistent Hysteria did.
Joe Elliott' s lyrics owe an obvious debt to his obsession with T.Rex, particularly on the playfully silly anthem 'Pour Some Sugar on Me', and the British glam rock tribute 'Rocket', while power ballads like 'Love Bites' and the title track lack the histrionics or gooey sentimentality of many similar offerings.
The strong pop hooks and "perfect"-sounding production of Hysteria may not appeal to die-hard heavy metal fans, but it isn't heavy metal — it's pop-metal, and arguably the best pop-metal ever recorded. Its blockbuster success helped pave the way for a whole new second wave of hair metal bands, while proving that the late 80's musical climate could also be very friendly to veteran hard rock acts, a lead many would follow in the next few years.
Tracklist
1. Women
2. Rocket
3. Animal
4. Love Bites
5. Pour Some Sugar On Me
6. Armageddon It
7. Gods Of War
8. Don't Shoot Shotgun
9. Run Riot
10. Hysteria
11. Excitable
12. Love & Affection
Photo Credit: vinylmeister