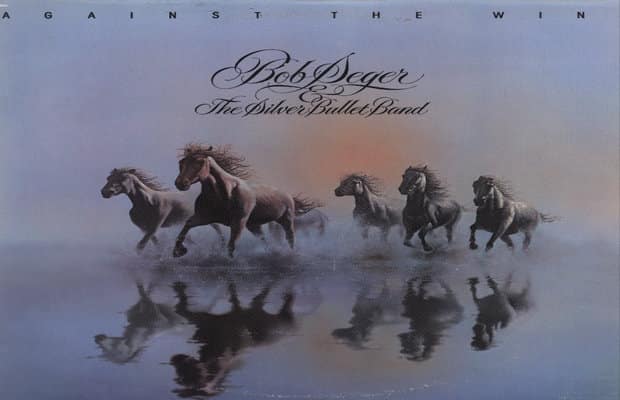 Tune into RadioNova tonight from 11pm when we'll be playing Bob Seger & The Silver Bullet Band's 'Against The Wind' album in FULL as part of our Classic Albums series!
Against the Wind is the 11th album by singer Bob Seger and his third with The Silver Bullet Band. It was released in 1980. It is Seger's only Number 1 album to date, spending six weeks atop the Billbord 200, and knocking Pink Floyd's massive-selling The Wall from the top spot. The album also earned two Grammy Awards.
Bob Seger & The Silver Bullet Band: Bob Seger (vocals, guitar); Drew Abbott (guitar); Alto Reed (saxophone); Chris Campbell (bass); David Teegarden (drums, percussion). After several straight-ahead rock releases helped establish Bob Seger as one of America's top rockers in the late '70s, he opened up the next decade on a quieter note, 1980's Against The Wind. Another big hit, Wind finds Seger at his most reflective, with ballads and country-influenced compositions making up most of the album. The best examples of Seger's new '80s direction can be sampled in the album's best cut, the heartfelt title track.
Other highlights included the ballads "Shinin' Brightly" and "No Man's Land," making Against The Wind another highly recommended Bob Seger release. Recorded at Criteria Studios, Miami, Florida; Muscle Shoals Sound Studios, Sheffield, Alabama; and Bayshore Studios, Coconut Grove, Florida. Producers: Bob Seger, Punch, The Muscle Shoals Rhythm Section, Bill Szymczyk. Engineers: John Arrias, Steve Melton, Bill Szymczyk. Additional personnel: Pete Carr, Jimmy Johnson (guitar); Barry Beckett, Dr. John (piano); Paul Harris (piano, organ); Randy McCormick (organ); Bill Payne (keyboards); Doug Riley (synthesizer); David Hood (bass); Roger Hawkins (drums, percussion); Sam Clayton (percussion); Timothy B. Schmit, Laura Creamer, Linda Dillard, Ginger Blake, Don Henley, Glenn Frey (background vocals). CMJ (1/5/04, p.6) – Ranked #10 in CMJ's "Top 20 Most-Played Albums of 1980".
Track listing
All songs written and composed by Bob Seger.
Side One
No.
Title
Length
1.
"The Horizontal Bop"
4:03
2.
"You'll Accomp'ny Me"
4:00
3.
"Her Strut"
3:51
4.
"No Man's Land"
3:43
5.
"Long Twin Silver Line"
4:18
Side Two
No.
Title
Length
6.
"Against the Wind"
5:34
7.
"Good for Me"
4:03
8.
"Betty Lou's Gettin' Out Tonight"
2:52
9.
"Fire Lake"
3:30
10.
"Shinin' Brightly"
4:30
The Silver Bullet Band perform on tracks 1-3, 6 & 8