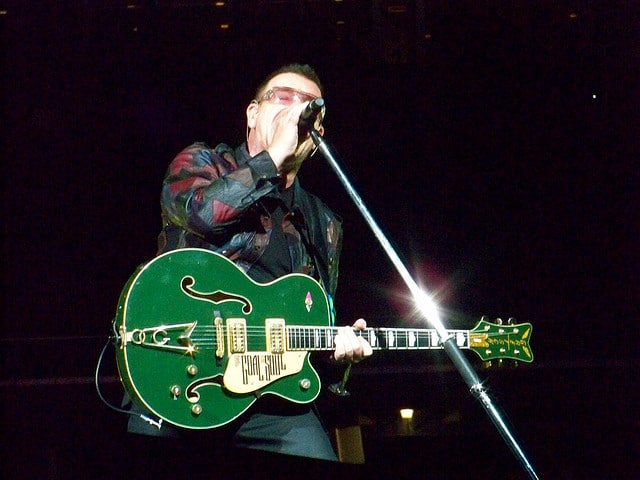 It's not everyday you survive a plane disaster, but it's something the Irish singer can cross of his bucket-list.
As Bono was sitting back, relaxing on a private jet, sipping a drink, on his way to another European city, he was jolted out of his seat, when the rear door of the plane fell off midway through a flight from Dublin to Berlin.
The Irish rocker was travelling on a Learjet 60 D-CGEO heading to the German capital to receive an award at the Bambi Awards. As well as collecting a prize, Bono was supposed to have a meeting about overseas aid with the German minister Gerd Mueller.
The other members of U2 must have had a 'Final Destination' moment of the troubled flight, the band travelled separately and were scheduled to arrive later that evening.
As Bono's plane reached the German coast, flying at about 8,000ft, the tailgate of the plane became detached. A source told the Irish Daily Mail: "He was extremely lucky, the plane could have gone down. About an hour into the journey they heard a big thud coming from the rear of the plane.
"They were startled for a bit but they continued on and made the descent into Berlin airport. When they landed they were horrified to learn that the compartment at the rear of the plane had completely detached."
They added: "The entire door along with Bono and his companions' luggage had fallen out mid-air. They don't know if the door and the contents landed over water or land but they were extremely lucky. They were at an altitude where anything could have happened and they are all feeling very lucky to be alive"
The door was outside the pressurised area of the cabin so there was no loss of pressure and no need to don oxygen masks.
Ralf Kunkel, a German airport spokesman said: "The jet landed safely and, according to our knowledge, there was no danger of a crash."