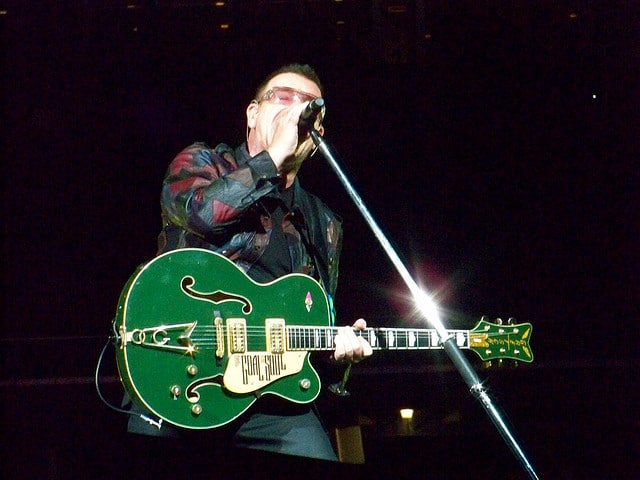 U2's frontman Bono has undergone five hours of surgery following his bicycle calamity in New York earlier this week.
The singer is expected to make a full recovery from the operation and is due to undergo "intensive therapy".
The Irish rockers were due to play a week-long residency on Jimmy Fallon's 'Tonight Show', to promote their album Songs Of Innocence.
U2 were forced to cancel their appearance on the late night chat show because Bono fell off his bike. While the frontman was enjoying cycling around New York's Central Park, he lost control of his bicycle and came crashing down on his arm.
Rolling Stone reports that Bono suffered several serious injuries from the incident, including a "facial fracture involving the orbit of his eye".
"[Bono] was taken emergently to the operating room…where the elbow was washed out and debrided, a nerve trapped in the break was moved and the bone was repaired with three metal plates and 18 screws," revealed orthopedic trauma surgeon Dean Lorich MD.
Bono underwent "multiple X-rays and CAT scans" following the surgery and will require "intensive and progressive therapy".
Jimmy Fallon did his impersonation of Bono last night on the 'Tonight Show'. The comedian filled in for Bono, wearing a military green baseball cap and signature sunglasses. He took to the centre of the stage and performed U2′s 1988 song 'Desire' with his house-band The Roots.
Watch the video Jimmy Fallon's performance of 'Desire' here.