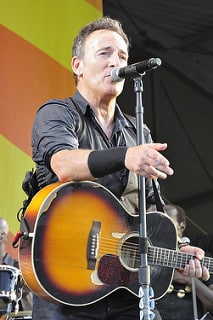 Bruce Springsteen's seventh studio album Born In The USA went to #1 in the UK album chart on this day 1985.
It was Springsteen's first UK number 1. It sold 30 million worldwide and was the best selling album of 1985 in the US, selling 15 million copies there alone.
The album featured seven singles that topped the Billboard 100, tying only with Michael Jackson's iconic album Thriller which set the record in 1984. The album skyrocketed Springsteen into international fame.
Born In The USA was released on 4th June 1984, by Columbia Records. The album was written by Springsteen, recorded with his E Street Band and produced by Chuck Plotkin and Jon Landau. The seven singles that shot to the top of the charts include; 'Dancing In The Dark', 'Cover Me', 'Born In The USA', 'I'm On Fire', 'Glory Days', 'I'm Goin' Down' and 'My Hometown'.
The album led with 'Dancing In The Dark' which ironically was written about Springsteen's frustration in writing hit singles that would please people, it went on to spend 21 weeks on the US billboard 100.
The album received mostly positive reviews from music critics. Rolling Stone described it as Springsteen's "most accessible listen since Born To Run" (1975). Many critics praise Springsteen for the important lyrical content in Born In The USA and for bringing issues like war to the forefront of American pop culture. Born In The USA allowed American heartland rock into mainstream music, paving the way for artists like Tom Petty and John Mellencamp.
Springsteen, who is currently touring Australia continues to be outspoken about his political views. As he opened a Melbourne concert with his E Street Band, earlier this month, he took the opportunity to "send a letter back home".
Springsteen declared, "We stand before you embarrassed Americans. This is a song from 1965 by The Orlons and we're going to use it to send a letter back home". The Boss then sang an acoustic version of Don't Hang Up The Phone in response to Trump's now infamous phone call with Australian Prime Minister Malcolm Turnbull, as reported in The New York Times.
Springsteen also famously spoke out against President Trump before the election in Rolling Stone magazine.
Picture Credit: Takahiro Kyono