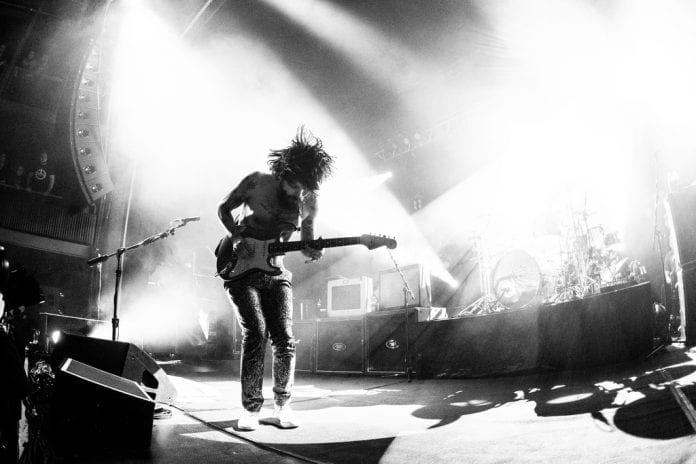 The VO5 NME awards took place last night in London's O2 Brixton Academy.
Pop group Bastille opened the awards show with hit single 'Good Grief'. The night saw more performances from Dua Lipa, Wiley and Pet Shop Boys – who picked up the award for 'Godlike genius' on the night.
Supergroup Bands4Refugees also took to the stage. The band composing of; Charlie XCX, Pixie Geldof, Marika Hackman and members if Peace, Swim Deep, Wolf Alice, Years and Years, Slave, Circa Waves and Black Honey, performed the Rolling Stones' 'Gimme Shelter' in a bid to raise money and awareness for the current refugee crisis.
The award for best British band was won by Biffy Clyro. The Scottish rockers released their seventh studio album Ellipsis last year. They will be back at the O2 London on Monday to play before embarking on the American leg of their Ellipsis tour.
Best International group went to Metallica, fresh from last week's Grammys, where during the performance of their new song 'Moth into Flame' with Lady Gaga, lead singer James Hetfield's mic was cut, forcing him to share with Gaga. Bandmate Lars Ulrich said Hetfield was 'livid' following the performance. In an interview on The Late Late Show With James Corden, the Metallica drummer said "I haven't seen him like that in 20 years. I mean, he was livid. I mean, he's aged really well and he's a pretty chill guy, but the first five or 10 minutes in that dressing room [were] not a lot of fun."
John Carney's 2016, Dublin based film, Sing Street was nominated for the best music film award, but missed out on the award to Oasis: Supersonic.
Check out a full list of the winners here.
The NME awards have seen huge changes in the past two years. In 2015, NME released their free title magazine, focusing more on the digital side of media. They also began to target a new audience, shifting from primarily rock and indie music to all music genres.
Picture Credit: Kmeron