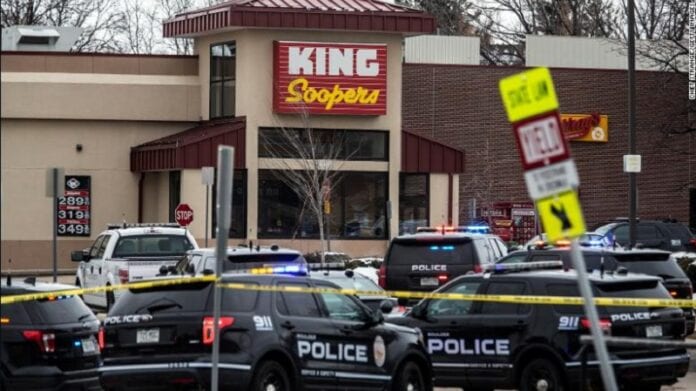 A gunman has killed 10 people at a shooting in a supermarket in Boulder, Colorado.
The incident began at around 20:30 Irish time last night. The suspect entered the King Soopers supermarket and started shooting.
Shoppers and employees of the store said they had to dive for cover or run to safety as the shooting unfolded.
A part of the stand-off was captured on camera by a passer-by, showing victims near the grocery store. Other footage of the incident was live-streamed and posted on YouTube.
The Boulder police department later warned people to avoid the area and told them not to "broadcast on social media any tactical information you might see."
Of the 10 victims, one was a police offer reporting to the scene. Officer Eric Talley was the first police officer to respond to the shooting and sadly passed away.
District Attorney, Michael Dougherty said, "This is a tragedy and a nightmare for Boulder County. These were people going about their day, doing their shopping. I promise the victims and the people of the state of Colorado that we will secure justice."
Last week, a gunman killed eight people including six Asian women at three spas in Atlanta, Georgia as the US has seen many incidents like this take place this year.
No details of the other nine victims or a motive for the attack have been released at the time of writing.
King Soopers supermarket is located in a busy shopping plaza in Boulder, a north-central Colorado city about 30 miles (50km) away from the state capital of Denver.
Ryan Borowski, who was in the store told CNN:
"This feels like the safest spot in America, and I just nearly got killed for getting a soda and a bag of chips."
Police sources told CNN that the gunman used an AR-15 style rifle, a semi-automatic gun that has been used in many mass shootings across the US.
CNN has also reported some startling facts on gun shootings incident in America this year.
The Boulder shooting was the 7th mass shooting in the past seven days. It is the 2nd mass shooting with multiple deaths in the last week and is also the 6th mass shooting with more than four deaths in 2021.
Photo credit: Chet Strange, Getty Images.