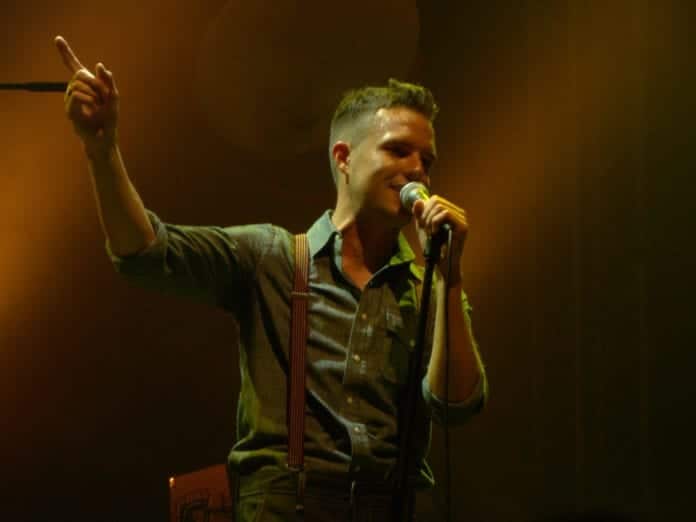 We've heard a lot from The Killers recently after they announced that they will be going on tour – including a gig at Dublin's 3Arena!
Front-man Brandon Flowers has revealed how he met his 'hero' for the first time in the toilets at the NME Awards! Flowers bumped into New Order front-man Bernard Summer, and had the following to say about the encounter on Radio X:
"It was our first time going to the NME Awards, and we were star-struck," he said. "It was an incredible experience for us. We were just happy to be there. I'm in the bathroom. I'm at the urinal. And Bernard Summer, who's one of my heroes, steps up next to me."
"And he starts singing 'Somebody Told Me' in my ear. It was so surreal, you know? Was it a good rendition? It was decent, yeah! He can carry a tune. That is so out of this world to have that happen. It was incredible!" Flowers continued.
The two bands have since performed together numerous times, covering Joy Division's 'Shadowplay' and 'Bizarre Love Triangle'. The Killers band name was actually inspired by the fictional band in New Order's video for 'Crystal', so the meeting was probably one that Flowers had anticipated for quite some time. We imagine he didn't quite expect it to happen the way it did, but it makes for a good story!
The Killers' highly anticipated upcoming album 'Wonderful Wonderful' is to be released on September 21st. Flowers has already spoken quite a lot about the album, recently describing it as the band's 'most personal and bare album yet'.