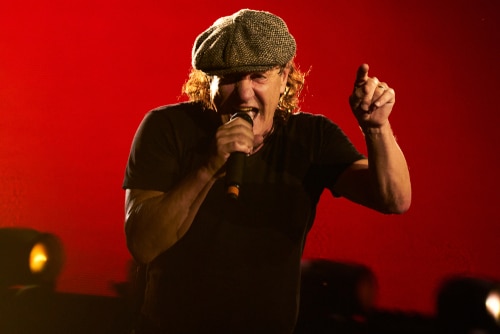 Ahead of the release of their 17th studio album, 'Power Up', Brian Johnson has teased that more AC/DC albums could soon be on the way.
The band are reported to have enough material for at least one more album, maybe even a second album.
Johnson made the admission in an interview with NME. "Most of 'Power Up' came from ideas before (2008 album) 'Black Ice', when Malcolm and Angus would sit together for five days a week and run through ideas" said Johnson.
"Malcolm was meticulous, he'd write down everything and when exactly they'd done it; categorise it. There's more than enough for another album, probably two".
Johnson also told NME that the new album was a tribute to Malcolm Young. Young sadly passed away in 2017 due to his battle with dementia. A lot of the new album has ideas that came from Young and he has writing credits on every song for the album.
"With Malcolm, you've got to go back to the beginning when he turned to Angus and said: ''C'mon, we've got to start a band – there's too much soft music around. I wanna play some rock'n'roll!'" said Johnson.
"He was uncompromising in his ethic. If it wasn't rock'n'roll, Malcolm didn't care for it. He's left us – but he's still there! In the studio and in everything he did. We're all very aware of that. When your target is to pay tribute to Malcolm, you just really want to do well and you don't want to let anyone down."
AC/DC bassist, Cliff Williams who came out of retirement to make the record has hinted that the band could hit the road again and tour, once the pandemic is over.
"We did a couple of weeks of rehearsals earlier this year and everyone was playing great. Everyone was up for playing shows, but then we all went home and the pandemic happened so it all went on the shelf. We certainly hope that once this is behind us, we can get out there and play again" said Williams.
Last month, Johnson revealed that he and Young both went on a hunt for the Loch Ness monster, armed with fireworks and alcohol. You can read all about their escapades here.
The new AC/DC album is available to order here and check out their new single from the album, 'Realize' below.
'Power Up' track list
Realize
Rejection
Shot In The Dark
Through The Mists Of Time
Kick You When You're Down
Witch's Spell
Demon Fire
Wild Reputation
No Man's Land
Systems Down
Money Shot
Code Red