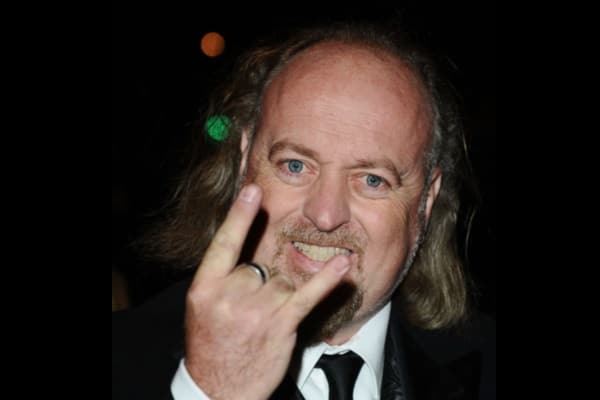 While the United Kingdom certainly did not cover themselves in glory at this year's event, next year's entry could be one to remember. Former Black Books funny man, Bill Bailey has revealed he is preparing to propel the UK back into Eurovision contenders.
The metal-loving comedian confirmed at the BAFTAs that he is prepping a new song to redeem Britain for next year's competition. Strictly Come Dancing champion, Bailey revealed he hopes to "inject a bit of fun" into the competition and save the Brits from anymore embarrassment.
At this year's competition, the Brexiters performed a passable entry, yet strangely returned home with a total of zero points. Italian rock group, Måneskin (who's frontman was suspect of a drugs test – before being acquitted) came out on top with their track, Zitti E Buoni.
Shortly after the results, Bailey took to Twitter and said he would be "happy to throw [his] hat in the ring" for next year.
Bailey made an appearance at last night's BAFTAs and the comedian confirmed that his offer was actually a serious one. Reflecting on James Newman's song Embers, the Radio Times report Bailey told fellow comic Tom Allen of his plans.
"Do you know what? I was writing [a Eurovision song] today. This very day… because I just thought, why not? Come on, we've not been doing well lately. It couldn't have gone worse," declared Bailey. "We need to inject a bit of fun, I think."
The musical genius previously told Good Morning Britain that he considered Newman's song to be "a bit underwhelming". Bailey continued to say he believes the UK should put forward songs that "celebrate the eccentricity of Britishness".
"We should focus on the performance, the visuals of it, make it into a huge celebration of Britishness, with some great hooks! Maybe some guitar, maybe some cowbells. There has to be a bit more drama, a bit more theatre," Bailey cried. "Because that's what this show is about, Eurovision is a huge celebration. Some of it is totally bonkers".
In 2020, Bill Bailey strut his stuff on Strictly Come Dancing with a solid performance to the sound of Metallica's Enter Sandman. Bailey, who went on to be crowned champion of the competition, could use his musical genius to give the Brits a fighting chance.