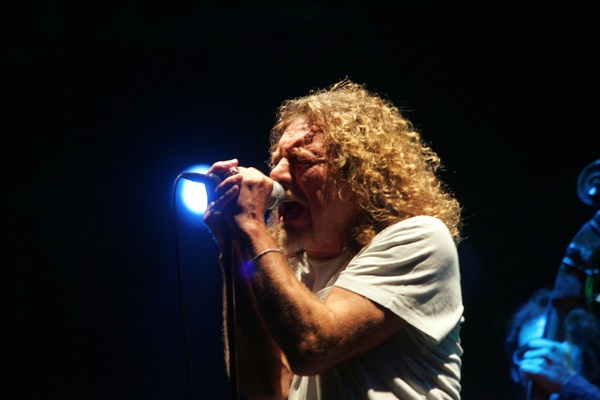 Robert Plant has expressed his admiration for songwriters who are able to "voice somebody else's condition" in their lyrics. The Led Zeppelin shrieker is in awe of such talent and admits that the concept is beyond his imagination. Check out the episode below.
Speaking on the latest episode of his Digging Deep podcast, Plant described folk legend, Bob Dylan as such a talent. The Zepp vocalist was full of praise for the artist while waxing lyrically about the singer-songwriter's latest album, Rough and Rowdy Ways.
On the show, Plant discusses the different values of songs with words and instrumental compositions with host, Matt Everitt. For the topic of lyrics, Plant notes, "Whose soul are you really baring? Are you baring your own soul? … Do you go into character, or do you refer to people who you care about who are in trouble? And the song pours out from another angle. That's quite something."
"My songwriting's pretty … it goes in a straight line," explained Plant. "The idea of me actually taking on the guise of somebody who's been in some kind of situation that you can only watch from afar – it's more than I can even imagine, to voice somebody else's condition and actually be them in the song."
In declaring his admiration for Dylan, Plant described the 2020 album as if it were written by a person "who've lived a life and they are actually telling it". Plant said the musician had the ability to tell the story of "what he sees of himself, and how he sees other people."
Recalling the first time he heard the album's opening track, I Contain Multitudes, Plant explained that he "just went, 'This is the story of all of our lives! Except he's taken the bends in a totally different way, the curves'. Dylan could probably have written for about a week in that idiom, that way of seeing it all." Plant then described Dylan's work on his latest album as "tremendous, very moving" and "very special writing for now."
The latest episode of Digging Deep podcast delved into the story of Rude World, a collaboration of Plant's and Jimmy Page. The track found home on the 1997 album, The Inner Flame, an all-star tribute to German-born, American-based guitarist, Rainer Ptacek, who died in 1997.
"Jimmy's guitar is absolutely out of this world," Plant declared. "We were able to spin effects and overcook the snare and do stuff that Jimmy and I would not have done in our normal relationship as songwriters and players."
On a previous episode of the podcast, Plant revealed that he has a ton of unreleased projects and concert footage that he has now "itemised". However, the rock legend had a very special request for when the musical archives are released. Click here to find out.