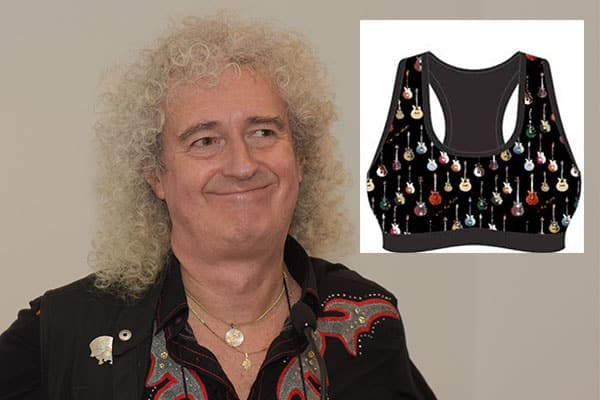 There seems to be no end to Brian May's talents. The Queen guitarist has only gone and designed a sports bra!
The official BMG Sports Bra is available on his Brian May Guitars website, and it's available to buy for £35.
Planet Rock reports that the bras come in five sizes ranging from Extra Small to Extra Large. The design features a variety of different guitars including, of course, Brian May's famous Red Special.
According to Brian May Guitars: "Highlighting Brian May's consummate artistic talents, this active wear salutes the entire range of Brian May Guitars with a bright, bold design prominently featuring the united colours of BMG – because it doesn't have to be red to be special!"
Brian May has also launched a shirt and waistcoat adorned with the same guitar design as part of the range. Seen below
SOMETHING FOR THE WEEKEND… Celebrating decades of @BrianMayGuitars and designed by @DrBrianMay to "keep all your life support essentials" safe and secure, the Official BMG "Hold Everything" Reversible Waistcoat is available to order NOW exclusively at : https://t.co/gNCsiigw93

— Brian May Guitars (@BrianMayGuitars) January 24, 2020