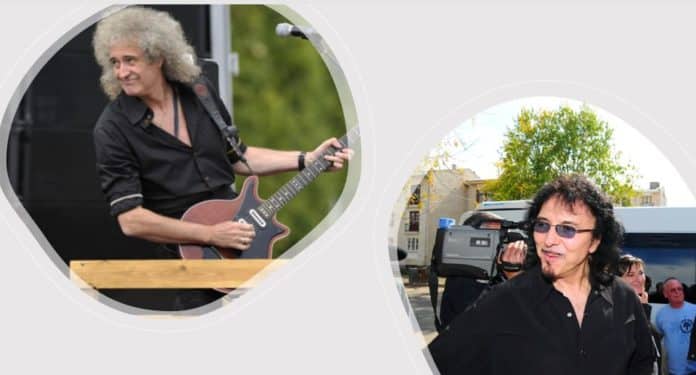 Legendary Black Sabbath guitarist, Tony Iommi, recently named fellow strummer Brian May as his personal choice of a Rock God. Recently guest speaking on the BBC's The Rock Show With Johnnie Walker, Iommi explains that May's "sort of sound and style really stood out to me when I heard the first Queen album".
"When I heard that album, I thought 'This is a really good band.' And a guitar player is always into other guitar players, and he had a sort of unique sound and the way that he played. I just liked it; it was appealing," Tony explains. "He's just got a certain character that you didn't really hear from anybody else; he's got something very 'him.' And as soon as you hear Brian now, anybody can pick him out."
Tony reveals the pair had first met "in the early '70s" and immediately sprung up a "very fast connection". The fellow guitarists spoke with one another "at all hours of the night in the early days", and even "jammed a few times".
"He's come up on stage and played with me and we've done some album stuff together on different people's albums. He played on my solo album a couple of times," Tony continued. "So, we've had a great friendship over the years. But the thing is with him, he loves his guitar. He's always got his guitar with him and he's playing, and when he comes to my house, I've always got a guitar there for him so we can have a little play."
Meanwhile, a new fragrance has been endorsed by the legendary rocker with the arrival of Scent of Dark. This unique fragrance has been blended by Xerjoff's Sergio Momo, and reportedly had major input from Tony Iommi, himself.
When the rocker decided to develop his own perfume, he knew he would receive some flak from Black Sabbath fans. Speaking to Rolling Stone, Tony said he believes that "they'll think I've gone mad! It's something I would've never thought of involving myself in. But it's been nice to be involved in it."
Tony has also recently had a 469-million-year-old fossil, discovered by a Danish/Swedish team of palaeontologists, named after him, the Drepanoistodus Iommii.