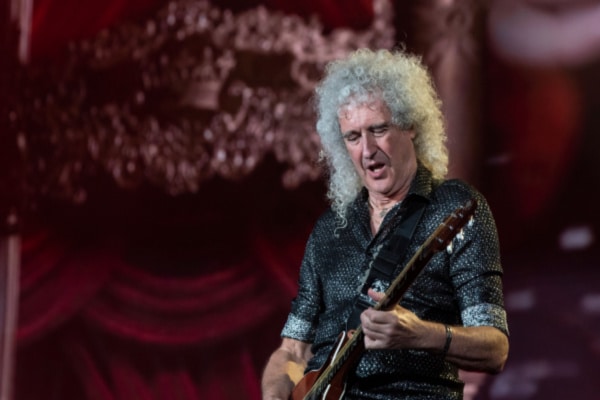 Brian May recently reflected on his friendship with the late rockstar Eddie Van Halen.
"I regret terribly that I didn't keep in touch more with Ed Van Halen", May said when on the legendary guitarist's passing. Van Halen passed away in 2020. 
The pair first met in Munich early into Van Halen's career, when the pair were opening up for Black Sabbath.
Speaking in a recent interview, Brian May revealed his fondest Van Halen memory, involved the pair, a Queen concert and a bottle of Southern Comfort.
"I have a lot of favorite memories, but I do remember one time him coming to see [Queen] play", May said.
"We went back to the hotel afterwards. He'd brought a bottle of his favorite drink with him, which I think was Southern Comfort. Anyway, he's knocking it back, and so I started knocking it back, and I completely lost it", he continued.
"The next thing I remember I was on the floor in the bathroom, having fallen down and cracked my head on the washbasin. I don't even remember going into the bathroom. It's one of the few times in my life where I've gotten out of control". 
"I'm Edward"
Van Halen of course worked with May on the Queen guitarist's Star Fleet Project LP, which was released in 1983.
May originally got the idea for this album from Japanese TV show X Bomber. The show was renamed Star Fleet in the UK.
May was very keen to re-record the show's theme track for this album alongside Van Halen. Phil Chen who was a session bassist who played with Jeff Beck and Rod Stewert also featured in the project, alongside REO Speedwagon's Alan Gratzer.
Fred Mandel who plays keyboard for Alice Cooper also worked on the project with May and co.
May and Van Halen also worked on a sci-fi EP together. More on that here.
Brian May also revealed in the latest interview that Eddie Van Halen actually preferred to be reffered to as Edward.
"I don't like to call him Eddie", he said. "He always used to say, "I don't like this 'Eddie Van Halen' thing! I'm Edward!".