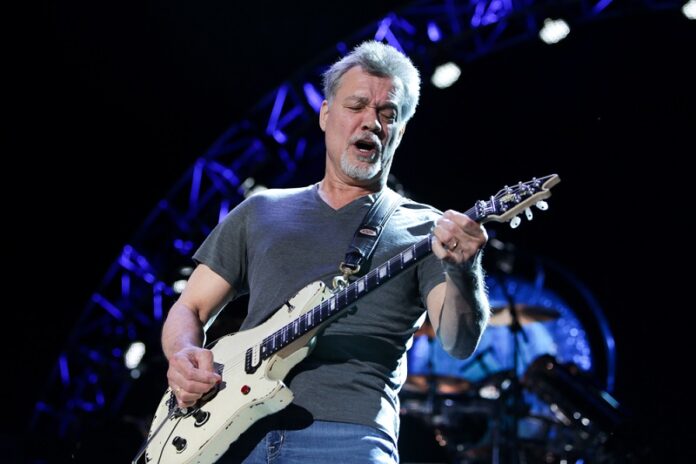 Eddie Van Halen's cause of death has been revealed, two months after the rock legend sadly passed away.
The guitar virtuoso died on October 6, 2020 at the age of 65 following a long battle with cancer.
According to TMZ, who obtained his death certificate, it has now been revealed that Eddie Van Halen's immediate cause of death was due to a cerebrovascular accident, otherwise known as a stroke.
He also had many other underlying issues such as pneumonia, the bone marrow disorder myelodysplastic syndrome and sadly, lung cancer.
It was also revealed that he suffered from skin cancer on his head and neck. Per TMZ, his death certificate listed his occupation as a musician.
The late icon was cremated 22 days after his passing. His ashes were given to his son, Wolfgang. It has been reported that his wishes are for his ashes to be strewn along the Pacific coast near his beloved town of Malibu.
Recently, Wolfgang appeared on The Howard Stern show and opened up about his father's health issues. In 2017, Eddie Van Halen was given six weeks to live due to stage four lung cancer.
"Whatever the fuck they do over there, it's amazing because I got three more years with him" said Wolfgang.
He added "Shit kept stacking up and stacking up. It just never let up".
At the Rock and Roll Hall of Fame this year, Eddie Van Halen was remembered in the form of many heart warming tributes.
Slash said "Eddie Van Halen was a tremendously gifted musician. His style and his sound were completely unique to him. He had a massive impact on guitar playing. I don't think there's anybody that's picked up the guitar since 1978 that hasn't been touched in some way by Eddie Van Halen's influence. I'm going to miss his playing and I'm going to miss him as a friend."
Kirk Hammett described him as "amazing". He went on to add "Not since Jimi Hendrix had there been a guitar player that had so much impact, and was so inspiring to me. He just explored the most simplest thing – a harmonic on his string – and brought it into this realm of technique that no-one even thought was possible. He was just, like, from a different planet."
Earlier this month, three guitars belonging to Eddie Van Halen went for big money at auction, you can read Radio Nova's report on it here.