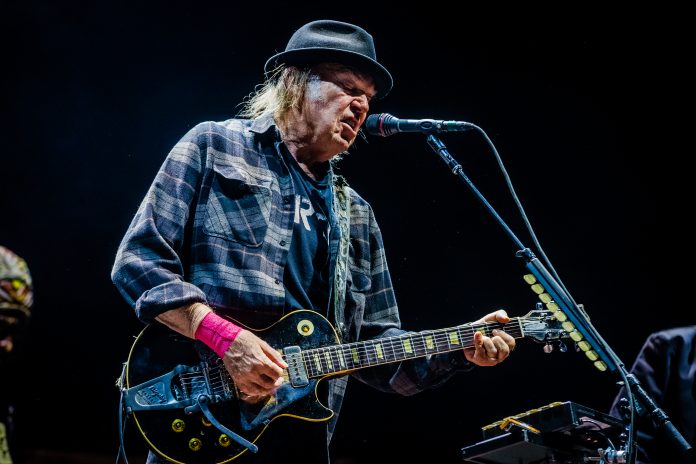 Neil Young has announced that he is releasing his Bottom Line 1974 concert as an official bootleg.
For years, an unofficial bootleg version of the concert has been circulated around the Neil Young fan base. The bootleg is extremely popular among Neil Young fans. The official release of the 1974 concert is entitled 'The Bottom Line – Citizen Kane Jr. Blues'.
This bootleg is the first edition in a brand new bootleg series that Young is to release in 2021.
Writing on his archive website, Young states "In my mind it's a hazy memory, but this moment really captures the essence of where I was in 1974…Folks at the Bottom Line heard seven new songs for the first time…"I just remember that I was 24 years old, bare, and letting it all out." Young was actually 28 at the time of the concert.
That night on May 16th, 1974, concert goers at the Bottom Line saw performances from Ry Cooder and Leon Redbone. At 2:15 am, Young took to the stage with only his guitar.
He treated the crowd to debuts of songs such as 'Citizen Cane Jr. Blues', 'Long May You Run' and 'Pardon My Heart'. Another reason as to why this bootleg is so revered in Young's circle is the fact that it is the only live version of Young's song 'Motion Pictures'. The full track list can be found below.
The Bottom Line – Citizen Cane Jr. Blues is expected to be released in early 2021. It will be released by Shakey records. Young has stated that he is to release six bootlegs throughout next year. The only other bootleg that has been confirmed so far is his performance from Carnegie Hall, 1970.
The new bootlegs will be produced by Young and Niko Bolas. The two have worked together before on Young's records such as 'This Notes For You', 'Freedom' and 'Living With War'.
Young wrote on his website "The first edition of the NYA Official Bootleg Series will contain at least six complete Bootleg Series offerings, the majority of which are from our own master recordings. Produced by the Volume Dealers, these six albums will provide the highest quality listening available."
The coming months are set to excite Young fans everywhere. As previously reported here at Nova, Young is to release 'Return to Greendale' next month on the 6th of November.
Along with this, Young has also announced recently that he is releasing his second volume of his Archive Series box sets. A 50th anniversary edition of 'After the Goldrush' is to be released, however an official release date has yet to be announced.
A live album and film of Neil Young and Crazy Horse called 'Way Down in the Rust bucket' will be released on December 6th.
Young's 2019 European Summer tour is to be chronicled in a live album and film entitled 'Noise and Flowers'.
The Bottom Line – Citizen Cane Jr. Blues Track list:
01. Citizen Cane Jr. Blues
02. Long May You Run
03. Greensleeves
04. Ambulance Blues
05. Helpless
06. Revolution Blues
07. On The Beach
08. Roll Another Number
09. Motion Pictures
10. Pardon My Heart
11. Dance, Dance, Dance