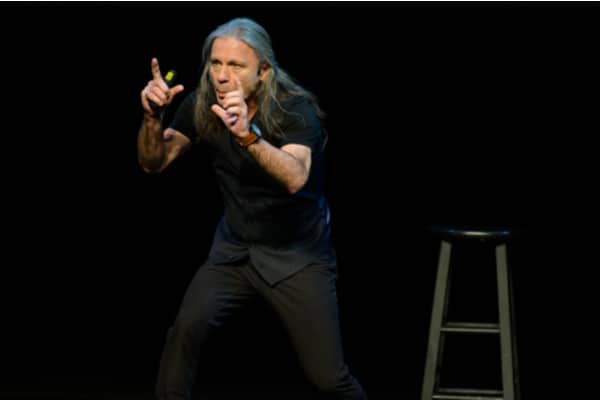 Bruce Dickinson has tested positive for Covid-19, despite being fully vaccinated.
Dickinson has already cancelled his upcoming spoken word tour due to a positive Covid case from his "immediate household".
The Iron Maiden frontman had been pencilled in to perform in Birmingham on August 9 and London on August 10. Both those dates were scrapped, with the rescheduled dates confirmed below.
More on that report here.
Rescheduled dates have been announced for Bruce's Evening With Tour.

October 2021
Sat 16 – London, O2 Shepherd's Bush Empire
Sun 17 – Birmingham, The Alexandra

Original tickets remain valid.#BruceDickinson #IronMaiden pic.twitter.com/lE3FMoMdHw

— Iron Maiden (@IronMaiden) August 10, 2021
"sneezing a bit"
Despite intially testing negative, Bruce Dickinson has since confirmed that he has tested positive for the virus. Thankfully, his symptoms are said to be mild, having initially though it was just a cold.
"I was kind of sneezing a bit", Dickinson said to Rolling Stone. "These lateral-flow tests came back negative, negative, negative, and suddenly like, 'Oh, it's not a cold". 
Dickinson has credited his mild symptoms to getting the vaccine. "For a couple of days, I felt a bit groggy, kind of like the flu, and that was it", he said. "And I'm 63 years old. I've pretty much got no doubt that had I not had the vaccine, I could be in serious trouble". 
Getting the jab should be "A personal choice" – Dickinson
Despite getting the jab, Dickinson has said that he does not believe vaccinations should be made compulsory for people to attend concerts. He called it a "personal choice". 
But he did insist that he hopes more and more people do choose to get the jab when they are offered it.
"It is a personal choice", he said. "Personally, I think people are just very badly advised if they don't go and get themselves double jabbed as quickly as possible, not for the reasons of going into concerts, but for their own health". 
"You cannot legislate against mortality", he added.
"There are many things in this world that kill people and they're not illegal but are unfortunate. Cancer kills a lot of people. Heart attacks kill a lot of people. Obesity kills a lot of people. Malaria kills a shitload of people every year. … So at some point, we have to just go, 'We're probably going to have to live with this. And if we're going to live with it, then you have your vaccination". 
Dickinson's band Iron Maiden also recently announced their first new album in 6 years. The album Senjutsu will come out on September 3. More on that here.