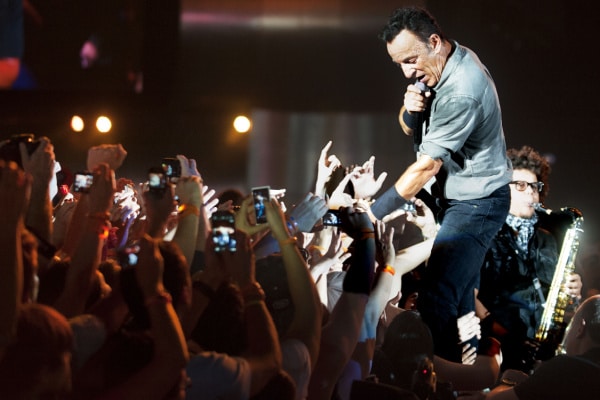 Towards the end of his live set at Hyde Park midweek, Bruce Springsteen warned the audience that he was about to be cut off by the festival organisers.
Springsteen took to the stage on Thursday (July 6), treating fans to six decades of hits, including 'The Promised Land', Letter To You', 'My Hometown', 'Kitty's Back', and 'Ghosts', before finishing off the set with 'Dancing In The Dark' and 'Tenth Avenue Freeze Out'.
Among the audience watching The Boss perform his 3 hour set, were Tennis legend Roger Federer, along with singers Peter Gabriel and Billy Joel.
"F*** 'em"
During his set, Bruce Springsteen turned to E Street Band member Steven Van Zandt and said, "I'm telling you, if we don't go, they're going to pull the plug on us again. F*** 'em! London is there anyone alive out there tonight? Cos if you're alive, then I'm alive. And that's what we came here for!".
This in relation to a headline show performed by Springsteen alongside Paul McCartney at the same venue over a decade earlier, which saw the pair's set cut off by festival organisers, after they exceeded their time limit.
Towards the end of the new set, Bruce Springsteen began to point at his watch in reference to the 2012 incident.
Back in 2012, Live Nation also released this statement, "The curfew is laid down by the authorities in the interest of the public's health and safety. Road closures around Hard Park are put in place at specific times to make sure everyone can exit the area safely".
Elsewhere, Bruce Springsteen also performed tracks 'Backstreets', and 'Last Man Standing', in dedication to long term friend and bandmate George Theiss. He passed away in 2018 from cancer aged 68.
"Be good to yourself and those around you!", Springsteen also told the audience.